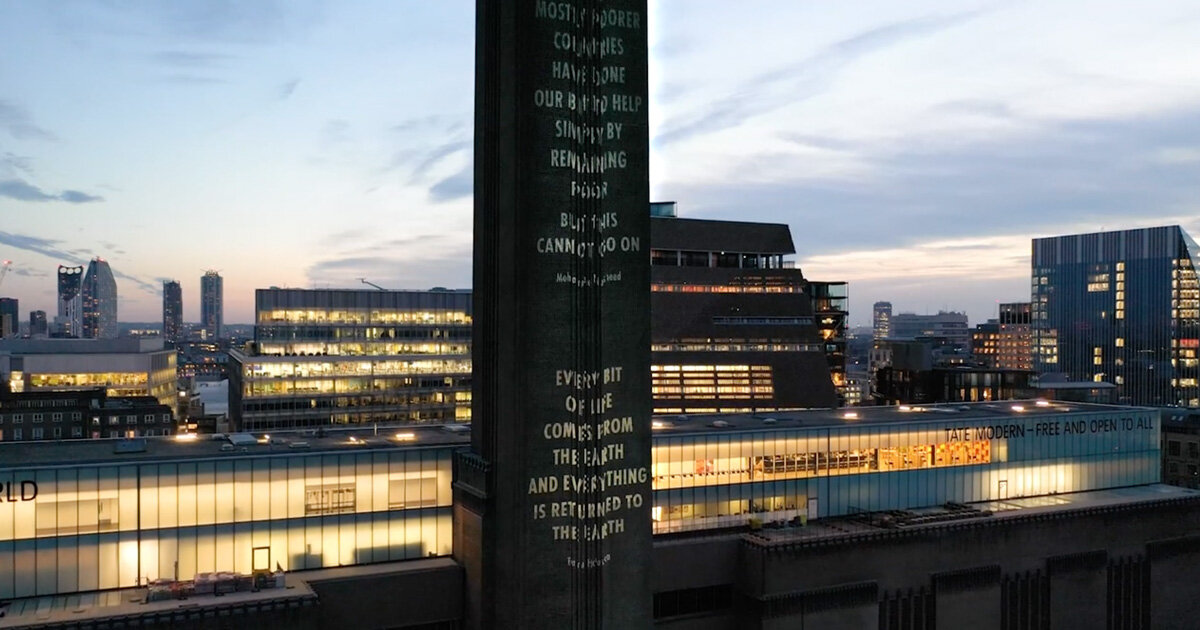 ARTISTS MAKE THEIR VOICES HEARD AT COP26
not just politicians signing pledges and greta thunberg dropping the f-bomb, the first week of COP26 has also seen a number of artists adding their voice to the climate crisis talks. as over 100 world leaders converge in glasgow for the UN's 26th climate conference, artistic installations have been appearing across the UK: from jenny holzer projecting the words of activists onto tate modern to a sinking red house in bath.
among the works, there's a palatable shift from what was once hope to urgency, and even downright skepticism as articulated by ai weiwei when he told skynews last week, 'probably is too late and most likely nothing will change… we cannot depend on one meeting.'
HURT EARTH BY JENNY HOLZER
jenny holzer has illuminated the words of more than 40 climate activists, including sir david attenborough and greta thunberg, with an installation called 'HURT EARTH'. the work was projected onto the chimney of tate modern in london between october 29-31. the installation will also travel to landmarks in scotland including edinburgh castle and the SEC armadillo in glasgow.
with HURT EARTH, holzer implores the public to make their voices heard and take action in the global fight against climate change.'countless people are starving and displaced from preventable climate disasters. here is tremendous destabilizing cruelty,'  says the artist.
GRACE OF THE SUN BY ROBERt MONTGOMERY
scottish artist robert montgomery has collaborated with olafur eliasson to install a solar-powered light poem titled 'grace of the sun'. on view at the landing hub in glasgow's westend until november 12th, the work measures 11×5 meters and will be illuminated every day at sunset. the poem is powered by 1,000 little sun solar lamps, which will be reused after COP26. the art piece urges politicians to quit oil and invest in renewable energies instead.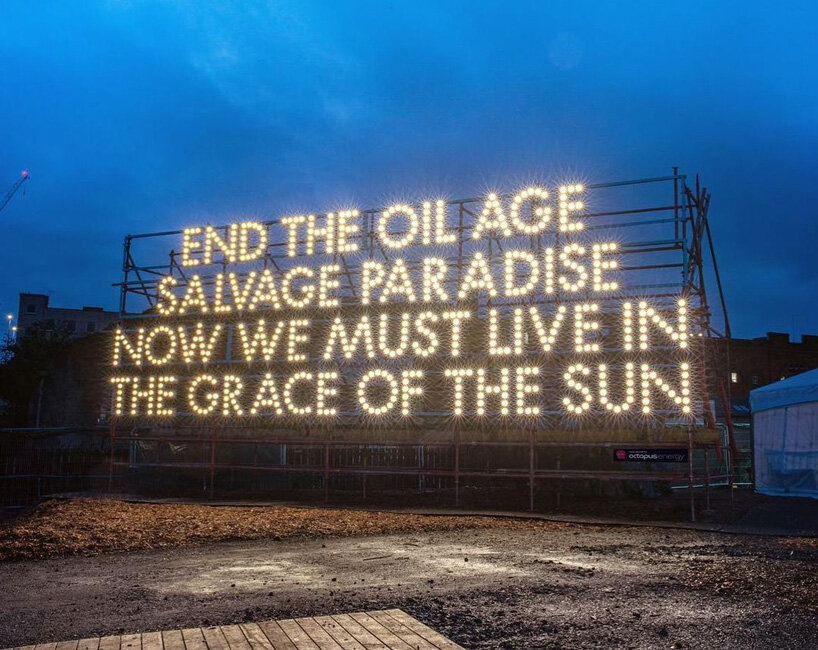 image by philip volkers
SINKING EARTH BY STRIDE TREGLOWN
employee-owned architecture practice stride treglown calls on world leaders not to waste the opportunity of COP26 with a sinking house installed in the river avon in bath, england. created in collaboration with format engineers, sculptor anna gillespie, and fifield moss carpentry, the work features a semi-submerged red house with a figure perched on top of the chimney. the work asks for positive action to be taken before it's too late.
'hope requires action,'  say the architects. 'we are at a tipping point. the time to act on the climate emergency is now, before it's too late.'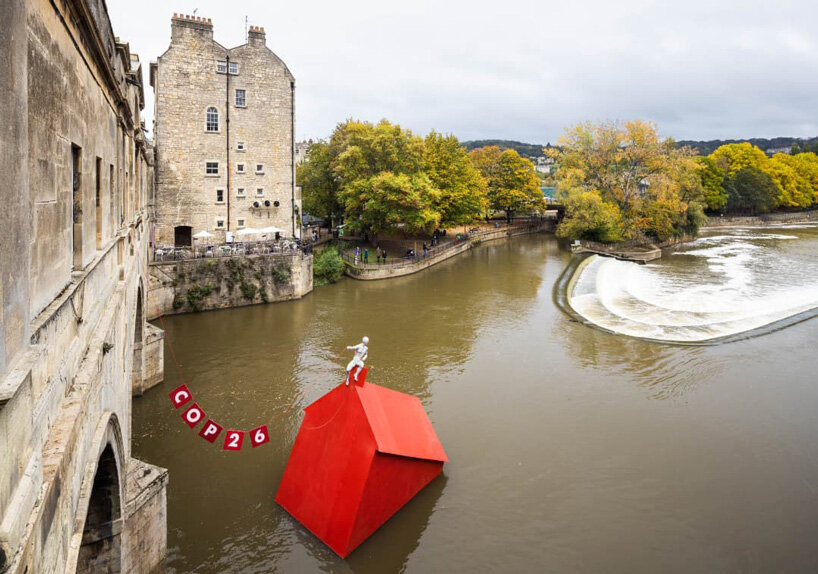 image courtesy of stride treglown
follow designboom's ongoing coverage of COP26 here.