tacozilla camper revives the campers of the past
the japanese automaker fuses a tacoma TRD sport pickup chassis with a custom-built micro-house, into 'tacozilla' 4×4 micro RV. the manufacturer offers a modernized version of the toyota campers from the 70s (built in collaboration with an RV company named chinook). celebrating the campers of the past, the design team sought to revive these retro models adding a fresh touch, responding to downsizing's popularity at the same time.
the vehicle debuts now at toyota's 2021 SEMA show at the las vegas convention center. 'tacozilla is an outstanding symbol of toyota's go-anywhere brand promise to our many owners who love overlanding and outdoor fun,' said lisa materazzo, group vice president – toyota division marketing. 'it's going to be hard to miss tacozilla, whether walking the SEMA show or at that campsite or off-road trail!'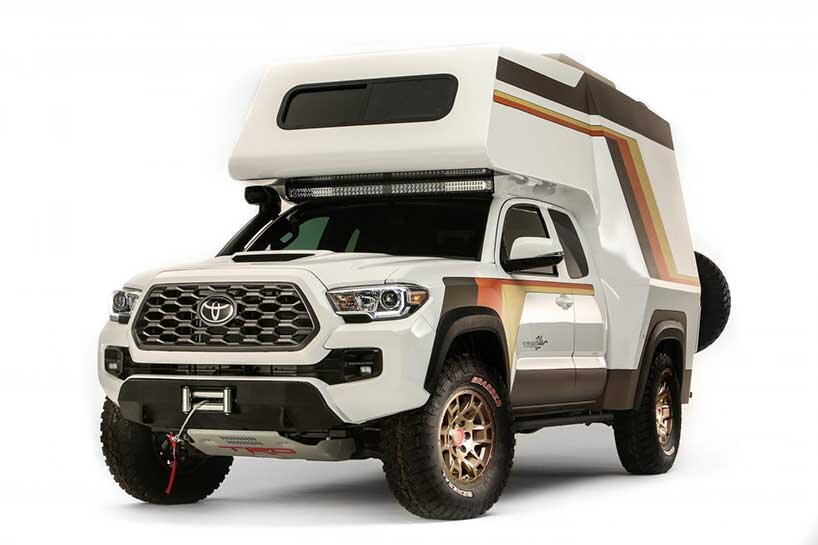 all images courtesy of  toyota
shrinking and repackaging 
the company's main challenge was to make the camper look fully integrated as a part of the tacoma, avoiding taking the form of a tack-on awkward box. the designers started by removing the bed to determine what needed to be removed and relocated to form the interior. they rounded off its edges, cladding the body with smooth aluminum surfaces. this way, the 100% custom camper owned a tapered shape that allows users to comfortably stand up in the entire interior. however, this odd shape added an extra difficulty to form the camper's rear door — as the team spent over 100 hours designing only this piece.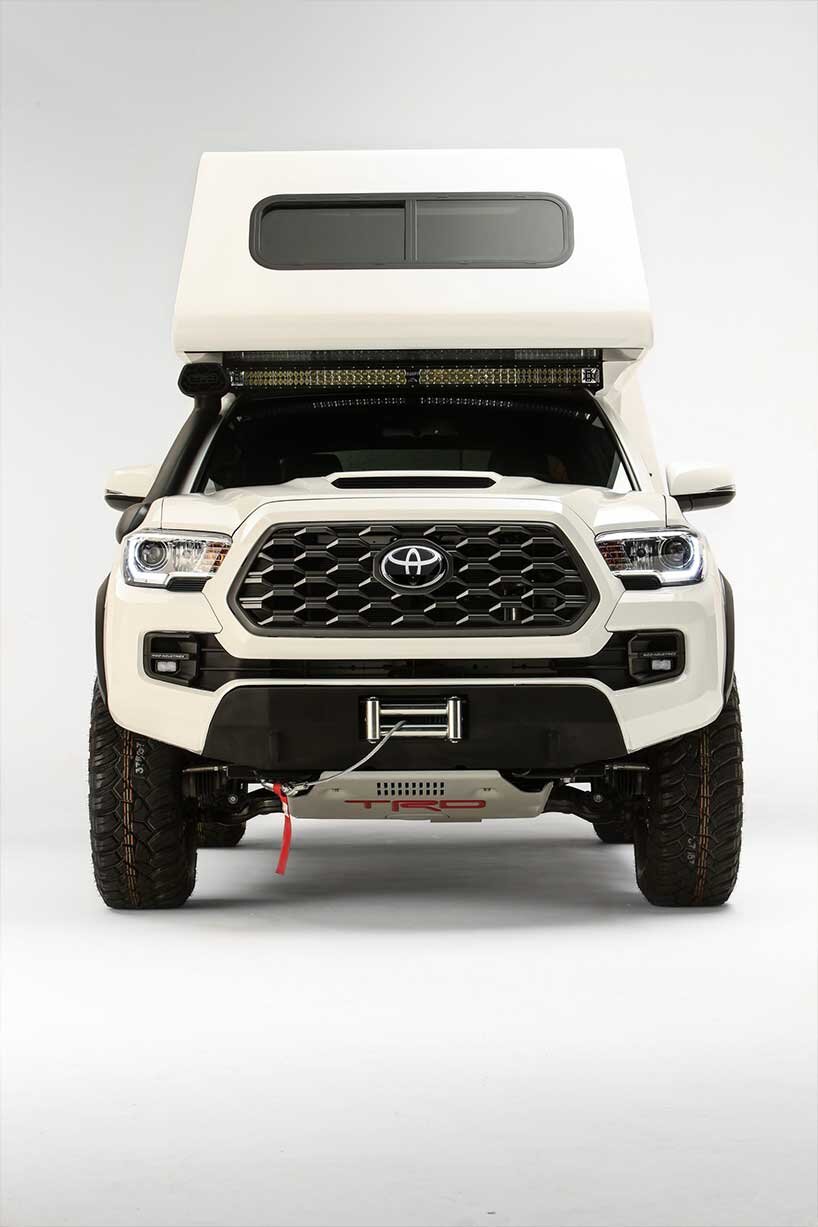 a custom-built micro-house into a 4×4 RV
once entering the door, the fully insulated interior looks like a micro-house with a teak sauna-style flooring. the interior includes a fully functional kitchen with amenities like a stove, sink, and fridge and a bathroom with a hot-water shower, while a 3D-printed dining table turns into a wall-art when not in use. the camper provides ample space for resting or sleeping, with a bed perched up in the alcove.
during the process, the design team decided to add a large pop-up lexan skylight to let plenty of light penetrate the interior and natural air circulation flow through. in the end, they added flashy pops of color. the finished white base coat was decorated with yellow, orange, and bronze stripes; a reminiscence of the vintage models.

someone over 6 feet tall can walk the length of the interior