LIVE merano camping gets a stylish overhaul
area architetti and designer harry thaler have renovated a 4-star campsite in the alpine town of merano in south tyrol. as part of a fundamental structural renovation of the 15,000 sqm site, the italian architects were commissioned by LIVE merano camping to create a central place for campsite facilities that's open and at the same time clearly defined and identifiable; visible and easily reachable from every point of the campsite.
the central facilities are composed of a series of connected, single storey volumes. the buildings are aligned parallel to one another, following the same orthogonal pattern of the adjacent town in both shape and arrangement. this composition generates a variety of outdoor spaces and allows campers to permeate through the complex from any side. it also helps to differentiate the different functions.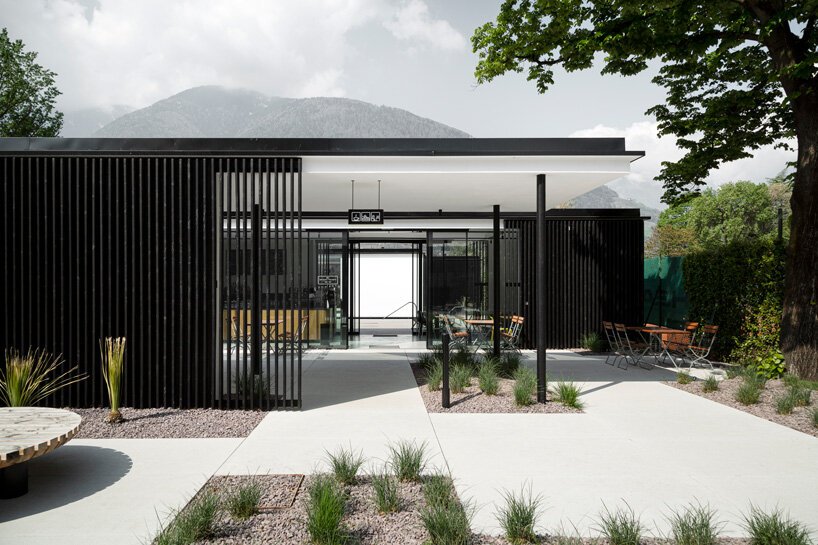 images by samuel holzner
the program of the new campsite complex includes a reception, bicycle storage, a spa area complete with sauna and turkish bath, and a heated outdoor pool. there are also little outdoor niches to relax on sun loungers.
the architecture is simple and sympathetic to the surroundings, its low-lying form and black exterior don't try to compete with the incredible mountain scenery behind. the black timber exteriors, made from locally sourced wood, are contrasted with white to create a stylish monochrome look. in addition to its contemporary character, LIVE merano camping also prioritizes environmental awareness and operates as a completely plastic-free campsite.