WU WEI FROM IN.X COMPLETES SIJU MINFU RESTAURANT (MALIANDAO) 
the siju minfu restaurant (maliandao) sits in an 1980s building which served as as warehouse for paper products at the northwest intersection of honglian road and maliandao huton in beijing. in the following 40 years, the function of the building has been undefined – up until 2020, when the new site of siju minfu was handed over to designer wu wei from IN.X who went on to transform and renovate it.
as a mature catering brand in beijing for 14 years, Siji Minfu is facing an increasingly younger customer group with diversified catering needs. on top of that, rapid urbanization has made people accustomed to small and crowded dining spaces. connecting the new catering needs with the current norm of the dining experience, the brand steps outside the comfort zone and redefines the experience of 'public catering'.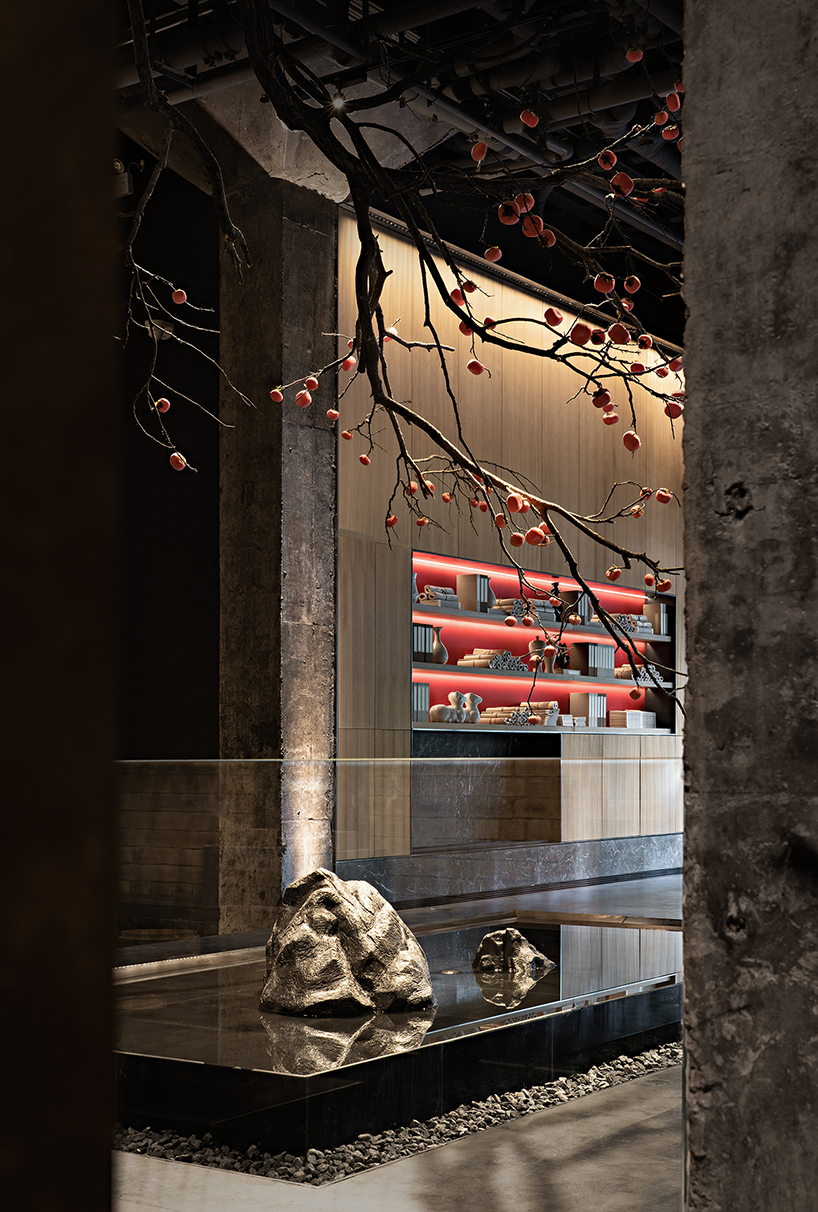 all images © zheng yan
REDEFINING THE PUBLIC CATERING EXPERIENCE 
IN.X's final design of the restaurant creates a remarkably comfortable dining experience that combines Contemporary design techniques with traditional regional culture and old architectural symbols to foster a dynamic timeline that interacts with everyone who enters the space. once inside, visitors are welcomed by an open waiting area where a huge caisson structure hanging from the ceiling opens up to the red-colored ambiance exclusive to siji minfu. a sculptural upside-down module gathers the diners to sit while a mirror plane reflects the central landscaped area onto the roof, stretching the sight vertically. 
the landscaped area is composed of a waterscape and rocks accentuated by the hanging branches of the persimmons which recalls the 'childhood memories of life in the courtyard'. to complete the dining experience, a red bar accentuates the space with its 5.2-meter-high red facade that extends upwards, curves into a surface, and connects with the building structure to form a nested module in a gray cement box. at dinner time, large-scale rendered blue lights overflow from the ceiling and part of the walls, like a digital skylight.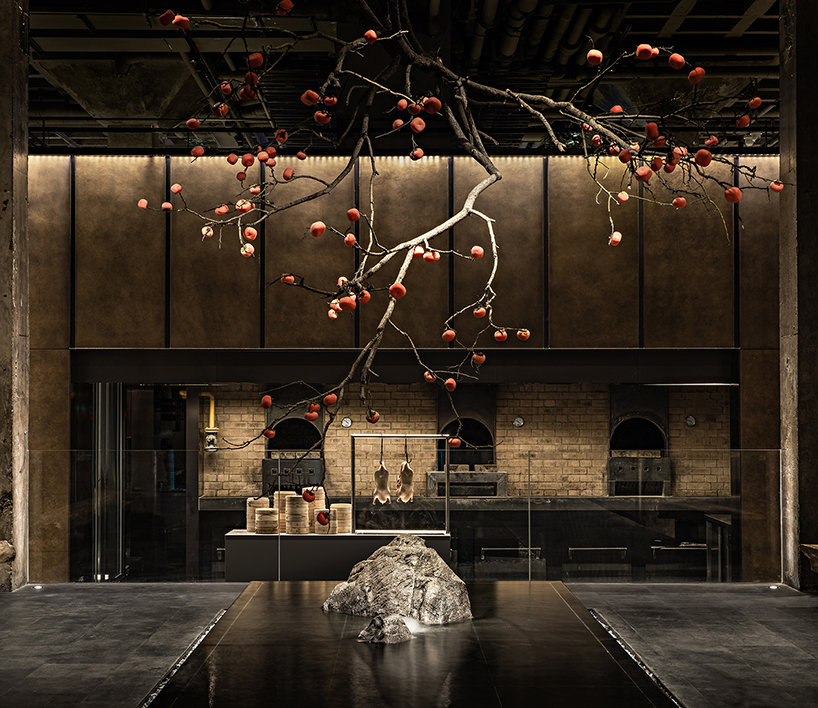 gold, red, and grayish hues compose the color palette of the restaurant
PRESERVING TRACES OF THE ORIGINAL WAREHOUSE BUILDING 
wu wei adopted a moderate renovation technique to preserve traces of the original building – including its super volume and large-scale qualities. he started off by dismantling the interior space into two modules – including an open area on the first floor and the f-shaped roundabout area on the second floor. under the roundabout area, a closed functional space is occupied by duck stoves, a kitchen, and private rooms. playing on perspective and visual exploration, a corridor connecting the east and west stairs makes the entire restaurant come into view while a sculptural escalator acts as the focal point of the space. 
moving on to the second floor, a 360-degree open room welcomes people into the grand and open 'temple', where the columns are tall and mottled – merging old and new materials. 'in the almost grand scene, the solemn and silent space, the rough and gentle texture, the gurgling water, and the daily emotions are superimposed, and peace and grace coexist in the place',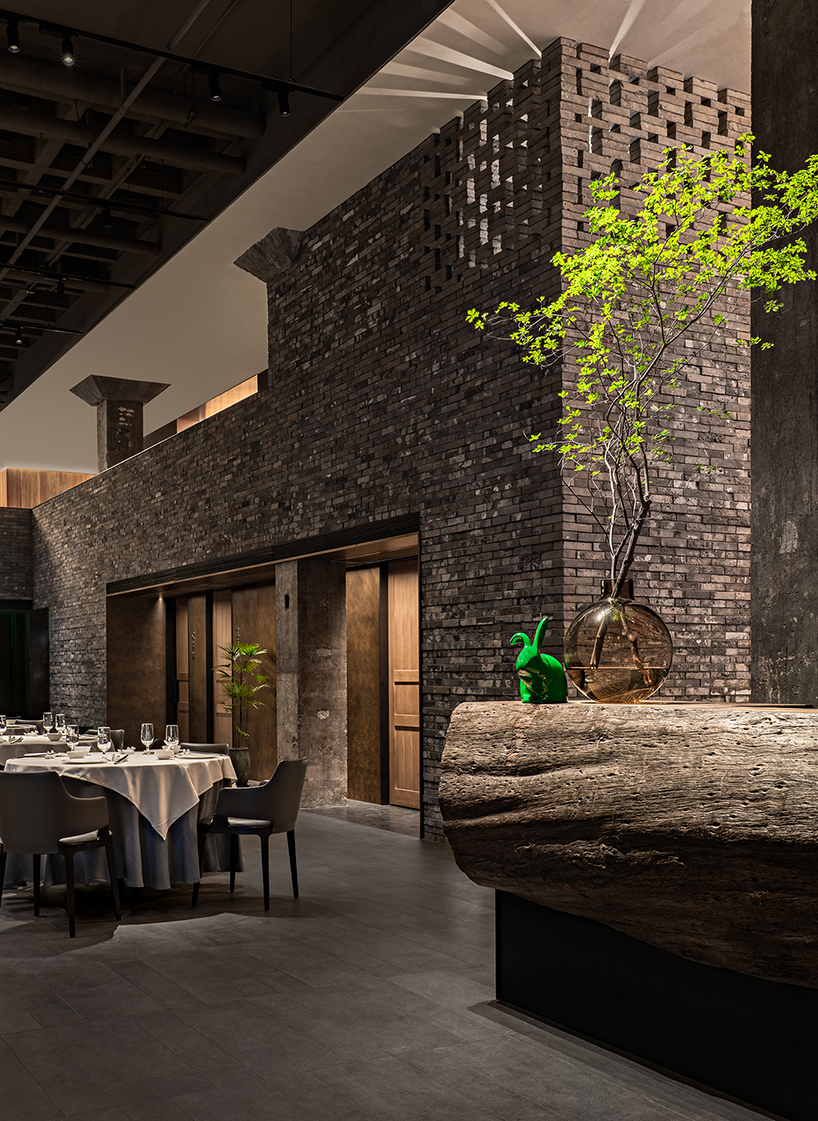 grayish bricks recall the residential buildings of beijing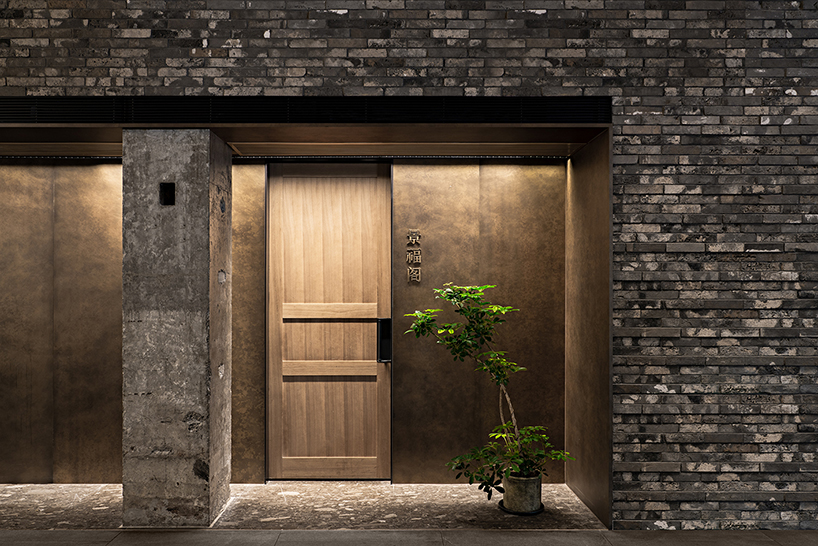 entrance to the siji minfu restaurant (maliandao)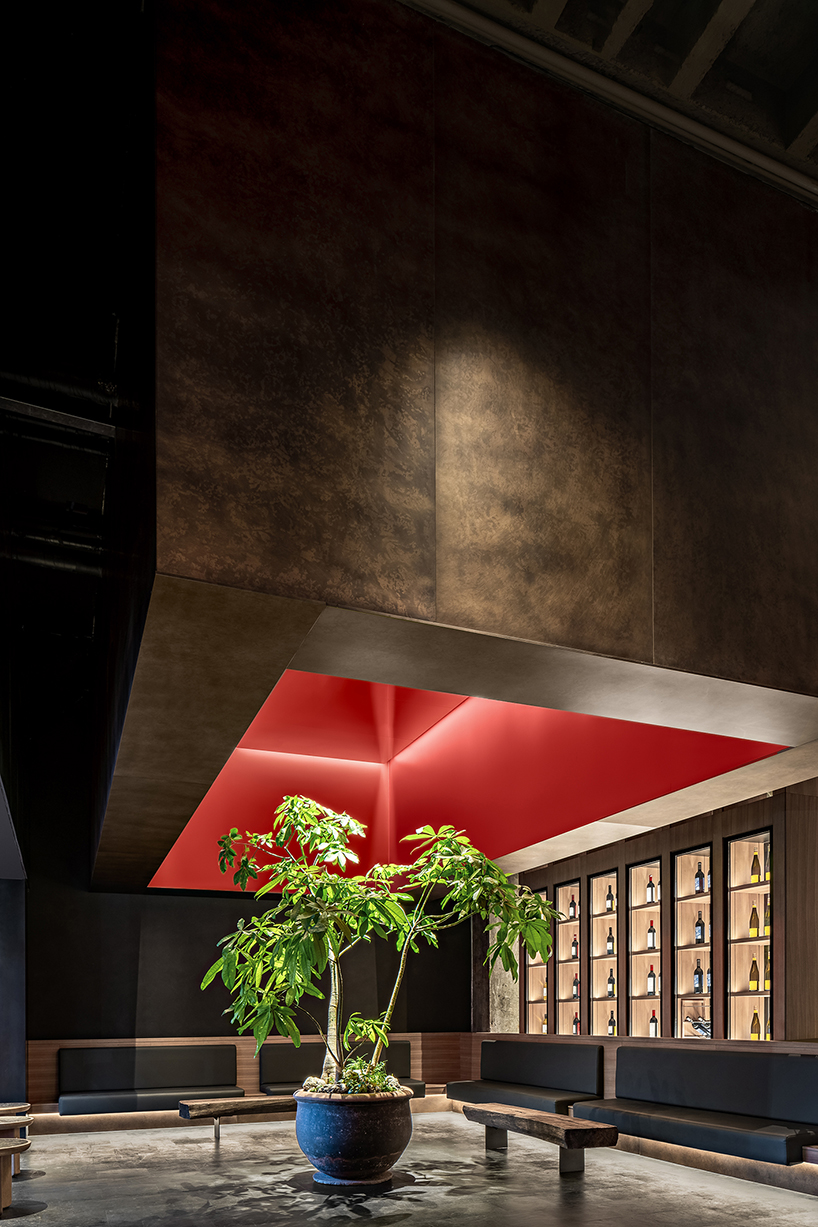 sculptural upside-down module gathers the diners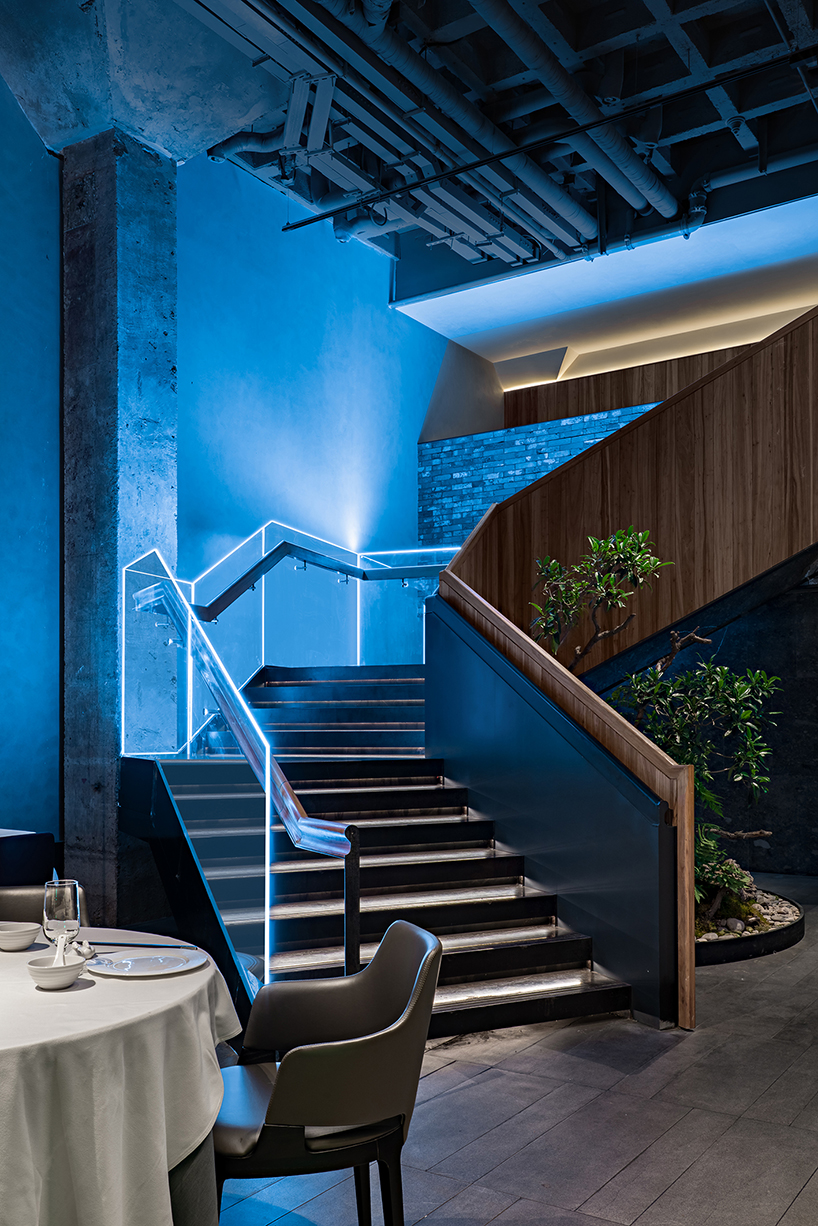 blue lights outline the shape of the stairs at dinner time