Back when long-time friend of Design Milk, Daniel Lantz of Graf Lantz took us on a tour of his workspace for our Where I Work column, he dropped a hint at an extra-special collection of soon-to-be-launched leather goods. We're thrilled to report that Graf Lantz's long-awaited Dogu Collection of modern portable desktop trays has officially launched – and even better – you can find the black colorway right here in the Design Milk Shop for a limited time — order yours here today!
Dogu was "designed for the new era of work we've entered," Daniel says of the collection, "as our homes become our offices and our kids become our coworkers, we wanted a system, a ritual to help bring a sense of calm to our environment." The Dogu trays come in a variety of sizes made to house all your workspace essentials without stress, and can be conveniently nested inside one another and covered with a lid for easy transport and seamless organization. These travel-friendly trays aren't limited to on-the-go uses though, office-bound professionals will love the seamless functionality and elevated look of the Dogu trays so much, they'll become permanent desktop fixtures.
Pencil Tray in Black
The Dogu Pencil Tray is a chic catch-all perfect for all your favorite writing tools. Its compact size is perfect for nesting inside of the other Dogu trays, and toting around on its own with your go-to pens and small desk items like memory cards, cables, USB-drives, and the like! The black leather colorway brings a modern minimalist look to your workspace (wherever it is), that's made even more interesting thanks to its soft yet durable construction.
$38
Medium Tray in Natural
The Medium Dogu Tray is essential for all of your workplace odds and ends — from important documents, external hard drives, note pads, chargers, you name it. Like everything in the Dogu collection, the Medium tray is designed to bring a sense of peace, stillness and order to your work life wherever it may take you. The compact size and convenient functionality will make this tray one you simply can't work without.
$82
Designed with the nomadic professional in mind, the Dogu trays come in a variety of sizes made to house all your workspace essentials and can be conveniently nested inside one another and covered with a lid for easy transport from place to place.
Computer Tray
The largest of the Dogu trays, we'd be hard pressed to name a computer case more stylish than the Dogu Computer Tray. Designed to hold a 13″ laptop with ease, this sleek tray will keep your laptop snug as a bug and protected from dust and scratches. Because your workspace is what you make it, your tray's functionality doesn't stop at laptop storage — use it for keeping important documents, your tablet, chargers, you name it.
$268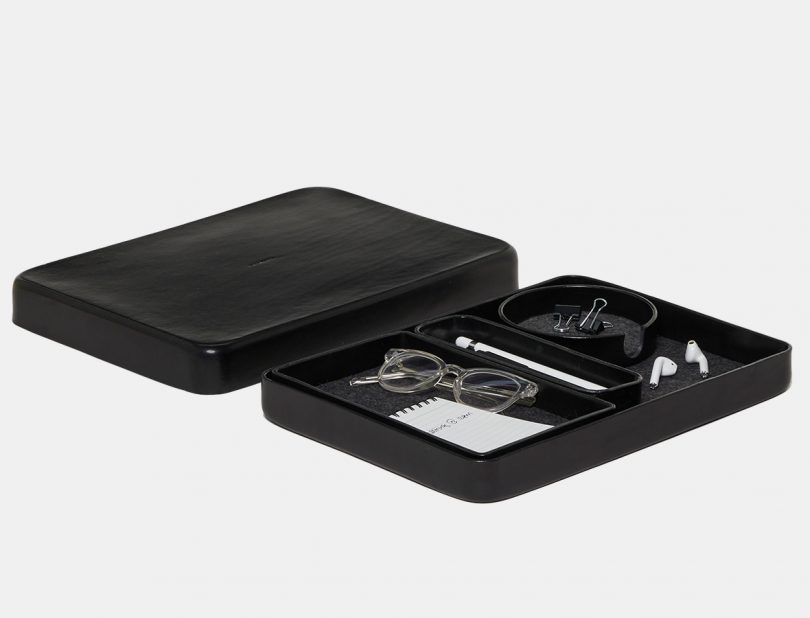 Tray Set in Black
The Dogu tray set includes everything you'd need to take your work set up on the go: a computer  tray with a lid, a compact pen tray, medium tray, round tray, and one felt round coaster. Perfect for remote workers who like to switch locations. Use them together or mix and match across the individual pieces to build a modern and moveable workspace that serves you!
$425
"There's always more to good materials than meets the eye," says Lantz, "Dogu represents how we dig into that to give more depth to the materials we choose to work with. Natural Leather is not 2 dimensional – we wanted to show its depth." Both vegetable tanned natural and black toned leather colorways of the Dogu collection do exactly that – featuring modern curved corners, rich tones, and merino wool felt inserts for select pieces, making them a welcome upgrade from the all too common plastic organizing trays found in most workspaces.
The brand's penchant for wool felt (their multicolored coasters are a Design Milk Shop best-seller) appears with the Dogu inserts and coasters, but the choice is as much about function as it is fashion – the material not only keeps your tech cozy and scratch-free, but it also offers thermal protection, water and odor resistance, and antimicrobial properties.
>>> Find the Graf Lantz Dogū Collection in the Design Milk Shop for a limited time, here! <<<