the dynamic and pixelated korea pavilion
dynamic and vibrant, moon hoon + mooyuki introduces the korean pavilion to the mobility district of expo 2020 dubai. the stadium-like structure is defined at once by its stepped, pixelated facade which transforms with waves of color. the undulating effect reflects the spirit of the korean landscape, echoing the desert sun as it rises and reflects across the scattered droplets of dew across the flowers. this natural and bucolic imagery is merged with visions of progress and technological advancements which define the expo's mobility district.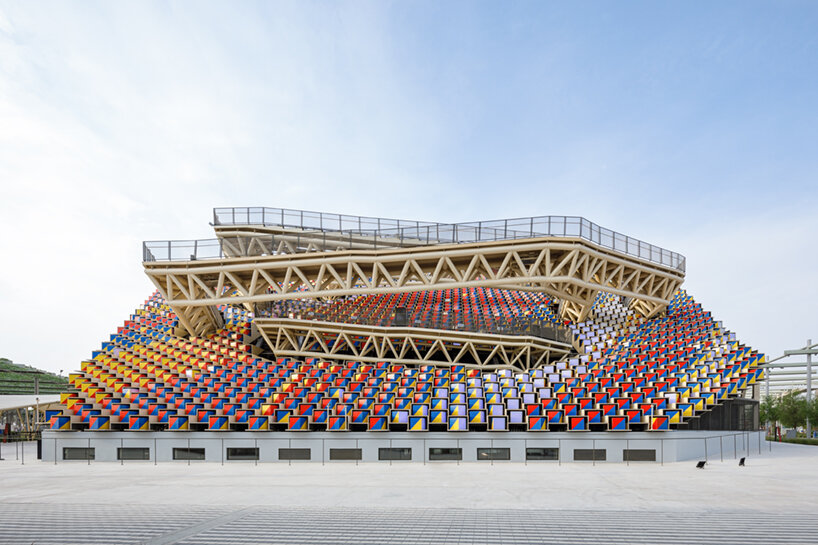 images by kim changmook, courtesy of moon hoon
moon hoon at expo 2020 dubai
the moon hoon team with mooyuki architects unveils its korea pavilion at expo 2020 dubai to exhibit the concept of mobility in contemporary and future terms. the spinning cubes rising into vision become expression of korean mobility and energy of its people. the facade comprises 1,597 of these cubes, representing abstract patterning.
the spinning cube has one digital face and three analogue color faces. with this detail, the work is at once digital and analogue — or 'digi_logue' — in an attempt to bring some freshness to contemporary digital media which the team claims to have become saturated and fatigued. the façade of spinning cubes stands as a digi_logue installation, which can be experienced within and without the building. the spinning cube façade is the exhibit.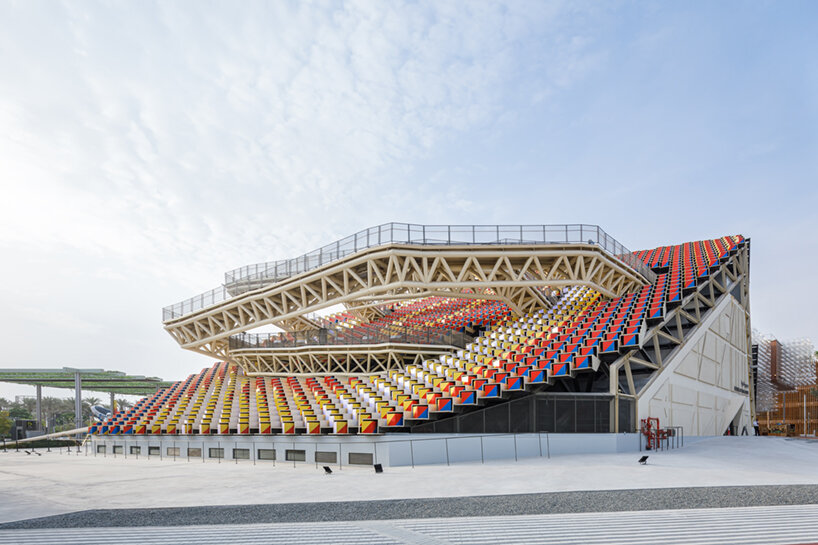 the rainbow ziggurat
like a ziggurat, like the tower of babel, like DNA and galaxy spirals, the four ramps weave in and out of the building. it ascends and descends with fluctuating gradients, as though logic has been hit with an accidental and irrational spur. the boundary of korea pavilion is blurred or broken by the in and out of the ramps. interior and exterior spatial experience becomes continuous.
the winding and weaving ramps provide many viewing points at different levels and positions, suggesting a fly-through experience of the whole structure. meanwhile, visitors are met with augmented reality, allowing them to superimpose digital images onto existing reality. the notion of desert mirage and miracles are subtly implied through these interventions.