the kitchen is the heart of every home. it is a space that transcends its function of preparing food; it is where families and friends socialize, memories are made and treasured, and even a place for study or work, especially in the era of COVID. doimo cucine has designed and manufactured 'kitchens for us' since 1994. the motto places people front and center for every solution created. combining functionality with beauty, this philosophy is still the case for the italian brand's D12 kitchen door system, which, in a contemporary composition like below, reveals a simple yet ambitious design.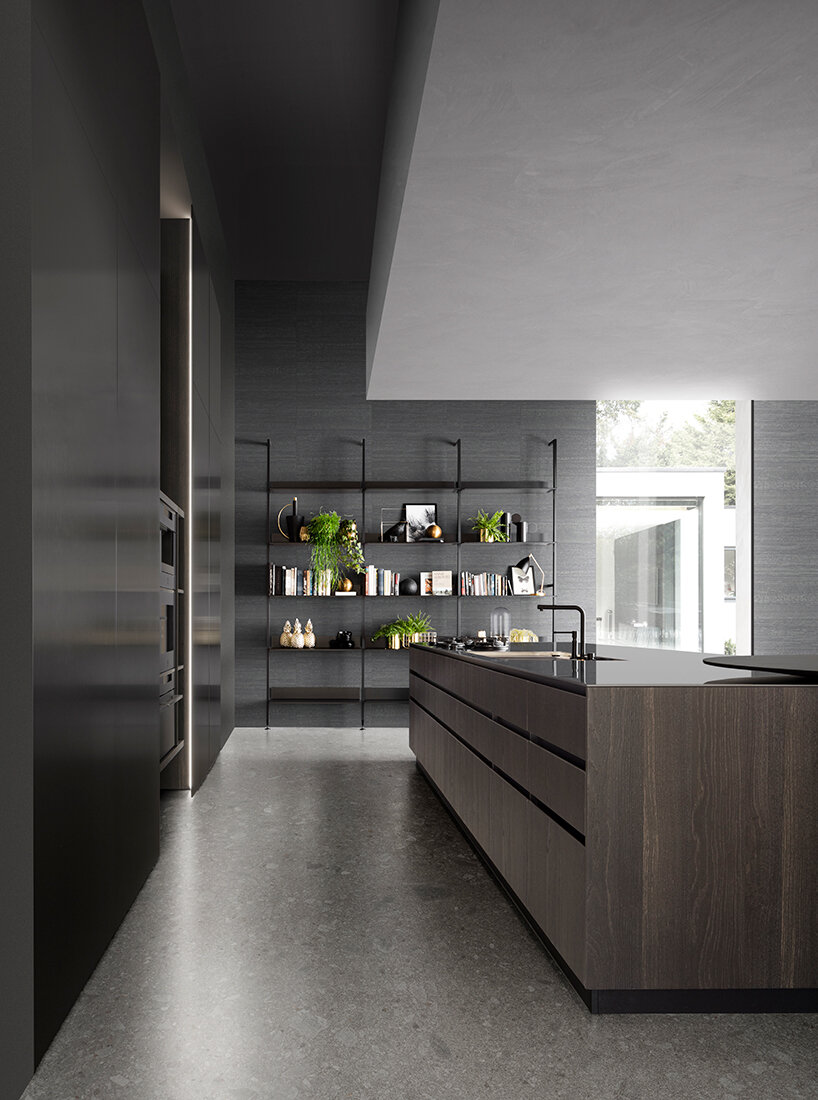 as its name suggests, doimo cucine's D12 indicates the thickness of the kitchen doors: 12 mm. with clean lines and materials, the rigorous and linear system evokes a sophisticated appearance that reveals surprising, concealed accessories at closer glance. the doors are crafted from lightweight, recyclable 100% aluminum, which is designed to be finished with panels of different materials or painted to match your interior styles.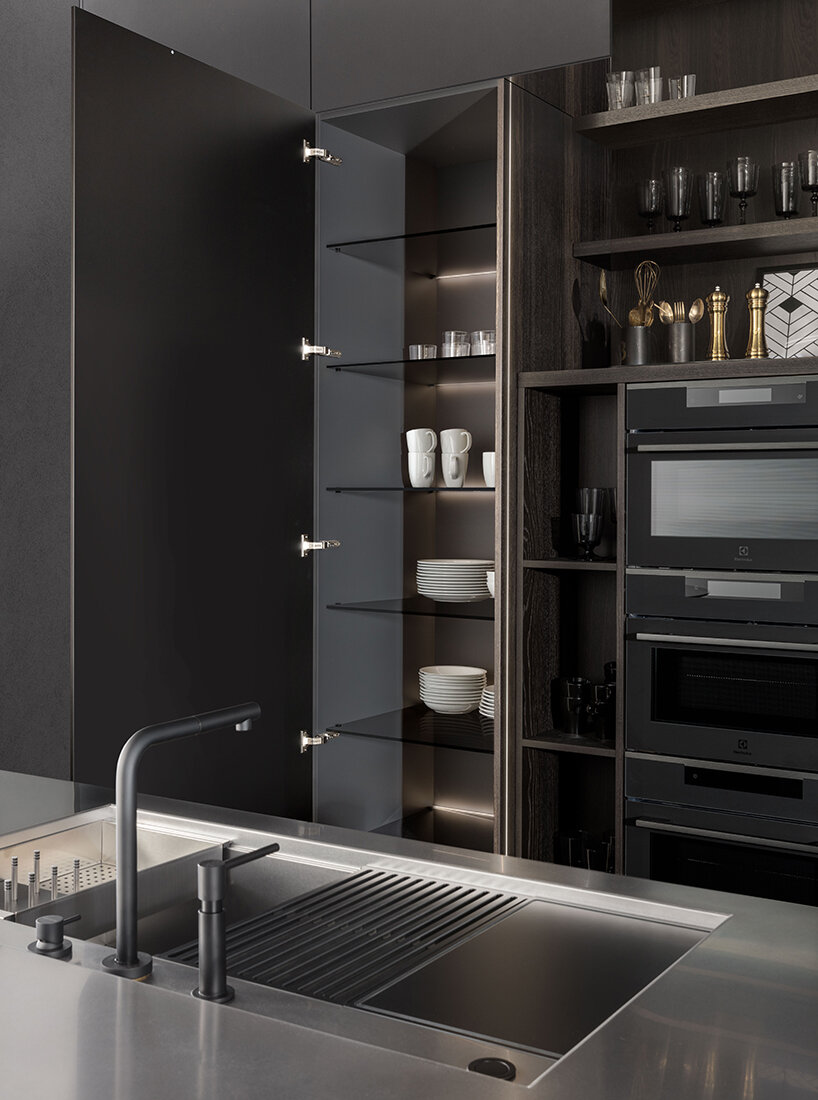 composition 3 – a case study of the italian brand's D12 novelty – envisions a dark yet contemporary kitchen dominated by a spacious, monolithic island with an ice stainless steel worktop. as well as the hob sitting atop, the surfaces houses the bowls of the barazza flexi sinks that are accessorized by a sliding perforated tray, dishrack and cutting-board. a power center also pops-up from the table top, as a schuko outlet and USB socket offers connectivity to the cook and all those seated around the island. a circular snack counter, fashioned in a slab of dekton kelya composite, extends the setting for even more guests to gather.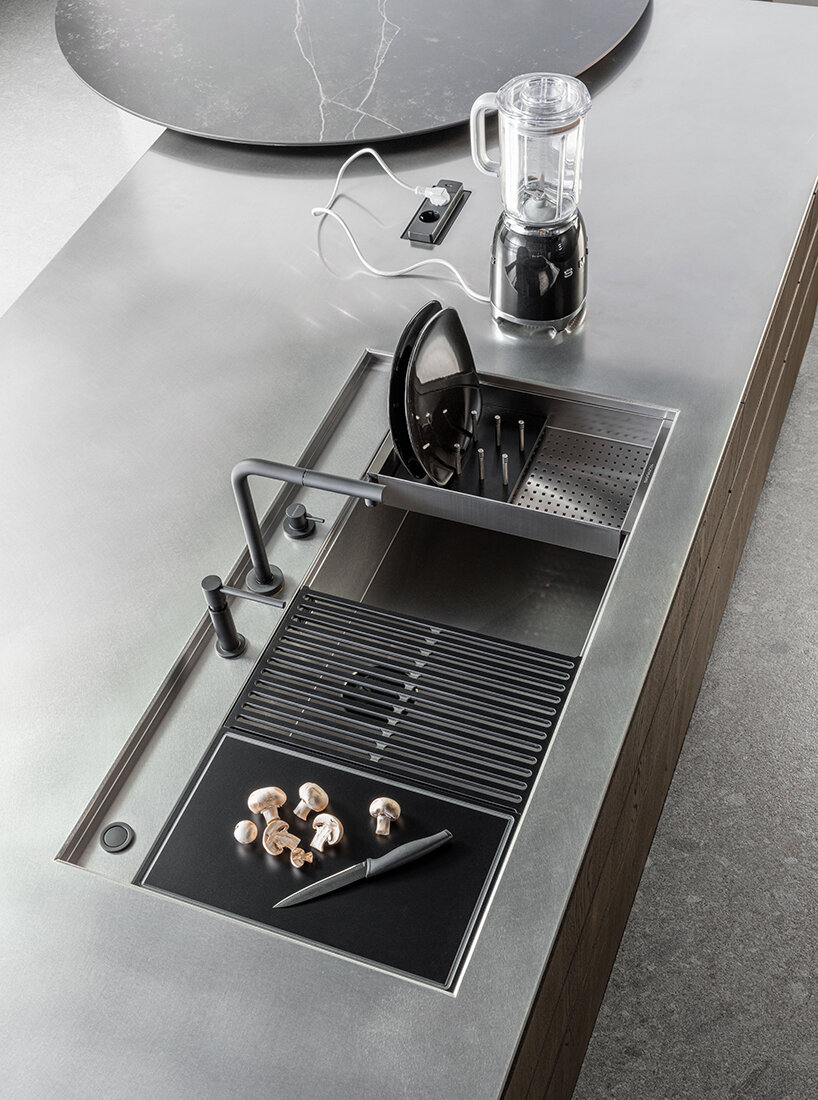 as the base of the island, D12 doors open up to reveal 180 cm wide deep drawers with moka stained oak bottoms. the system also opens up to unveil an array of accessories concealed in the tall units of the main pantry area. 90 cm wide deep drawers feature a black slide light with backlit smoke glass shelves. the doors in lacquered satin iron stretch across the cabinet's width to accentuate its simple yet centerpiece revealing act. the modular bookself completes the contemporary kitchen with black metal shelves.