Your dog is part of your family and their crate is part of your home. But, let's face it: traditional wire dog crates can be an eyesore. The team at Diggs set out to reimagine the crate training experience with products that are stylish for pet parents and safer for pets.
While searching for products for his own dog, Diggs' founder Zel Crampton found that existing crates on the market were clunky, difficult to use and unattractive. To create a better crate, the Diggs team embarked on a design process that incorporated ethnographic research, customer feedback and thorough safety testing. The result is revolutionary: the Revol Dog Crate.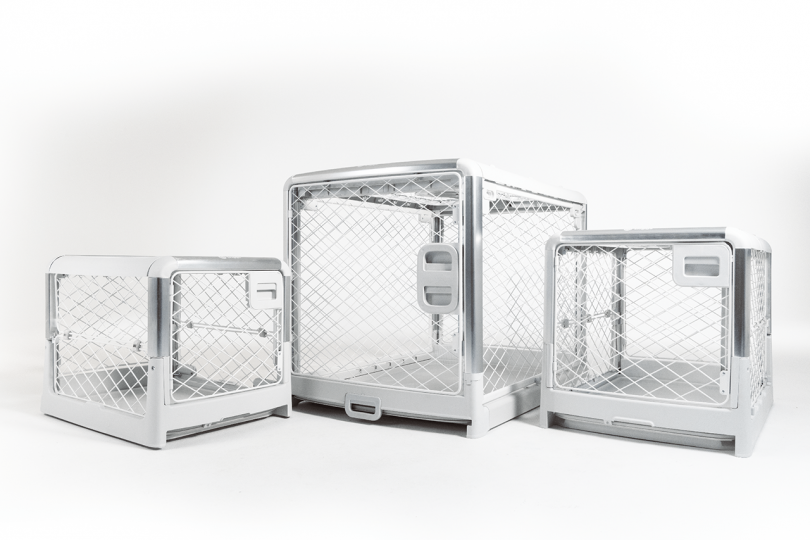 Safety was our top consideration at every point in the design process. Because the pet industry isn't widely regulated, we utilize standards for toys and juvenile products to design Revol. All of the materials used in our products meet these stringent standards for known toxins and our products are designed to prevent hazardous conditions to pet parents and their pets.
– Greg Walker, Head of Pet Safety at Diggs
Revol is as functional as it is beautiful – a design lover's dream. A reimagined take on the pet supply staple, Revol features a sleek profile and modern colorways that look great in any space. The attractive exterior complements your existing decor, so you don't have to sacrifice style for your dog's safety. Diamond-shaped wire mesh reduces the risk of your pup's paws or mouth getting stuck, while ergonomic, easy-to-use doors make the crate extremely user-friendly.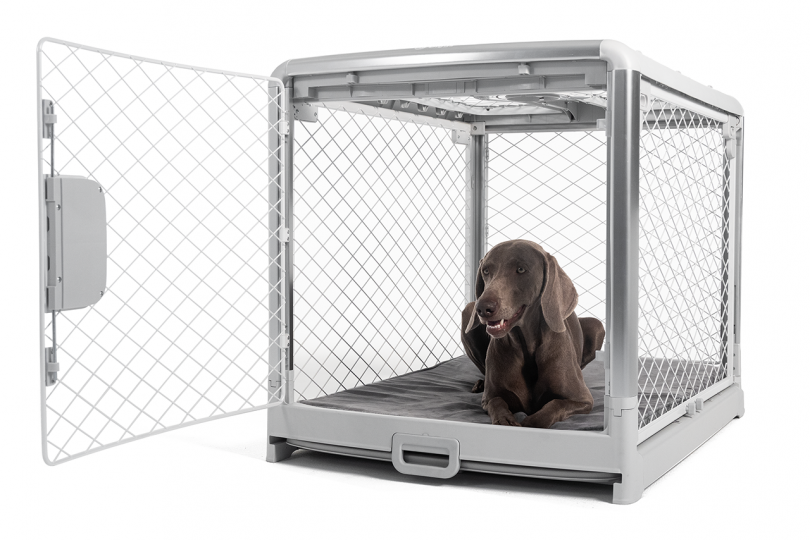 This month, Diggs released the Large size of their Revol Dog Crate. With a waitlist of over 35,000 eager pet parents, it was the brand's most anticipated launch yet. Built for dogs up to 90 lbs, the Large Revol is a popular choice for Doodles, Golden Retrievers, Labradors and other large breeds.
"The Large Revol is the culmination of three years of R&D and feedback from our Pet Parents, which makes it something really special in the world of products," said Courtney Armstrong, Head of Product Development at Diggs. "We were able to tackle some really significant challenges with this design, all while striving to enhance the forms and features people have come to know and love about our products."
Revol is a smart choice for dogs of all ages, from puppies to senior pets. The garage-style side door is handy for crate training and makes it more easily accessible for dogs with mobility issues. The included puppy divider allows you to resize the crate's interior as your pup grows. Apartment dwellers will appreciate the collapsible frame for compact storage, while pet parents on the go can use the wheels for easy transport.
It's an example of good design solving real problems. Diggs' growing array of products seeks to help pets and their parents live better, together. The Revol Dog Crate is available in three sizes and three colors, and pairs well with Diggs' crate accessories, including the Snooz Crate Pad and the first-of-its-kind Groov Training Aid. To learn more about Diggs, visit diggs.pet.
Photography by Dalton Tokarczyk.