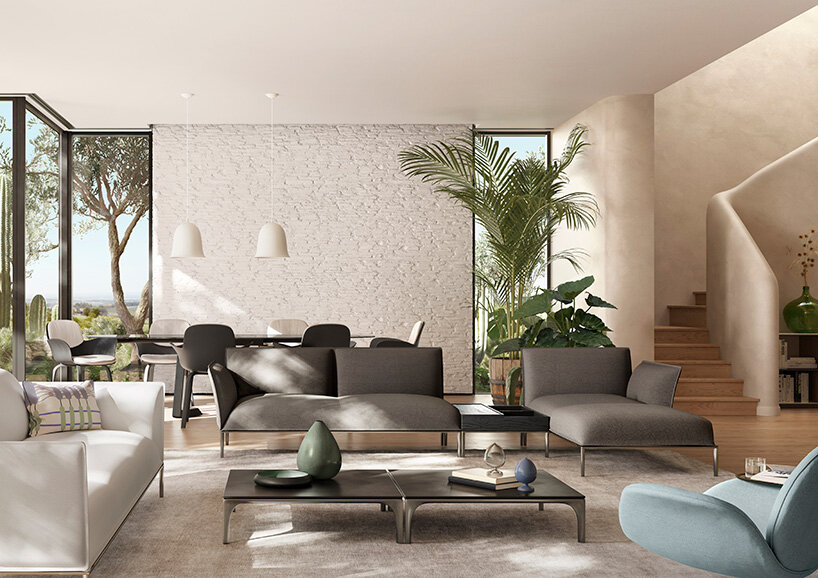 THE EUFOLIA SOFA BY MARCEL WANDERS STUDIO FOR NATUZZI ITALIA EXPLORES MICRO-LIVING
three years ago, pasquale junior natuzzi — better known as PJ natuzzi — took over the creative direction of natuzzi italia, the apulian company founded by his father in 1959. shifting the focus from the product to the experience, one of his first moves was inviting designers to dive into natuzzi's DNA, merge it with their own, and create new collections. the first collaboration was with amsterdam-based marcel wanders studio and it was such a successful partnership that the studio has been invited again to design for natuzzi italia, this time for the 2021 collection titled the circle of harmony — live the transition.
following both the speed and scale of changes we have been faced with on so many fronts, and with the idea that forging great relationships results in great products, PJ natuzzi enlisted his 2021 design army  — marcel wanders studio, elena salmistraro, sabine marcelis, lorenza bozzoli, massimo iosa ghini, marco piva, patrick norguet and formafantasma — to translate this feeling of constant change and transition towards the unknown.
marcel wanders studio dived into the idea of micro-living, and presents eufolia, a sofa that explores innovative solutions to small spaces without having to renounce to the quality of craftsmanship and design. designboom met with marcel wanders and gabriele chiave in puglia, where they discussed the challenges of designing a sofa, and how the pandemic has shown us that we are the most flexible and multifunctional part of our homes. read our interview below.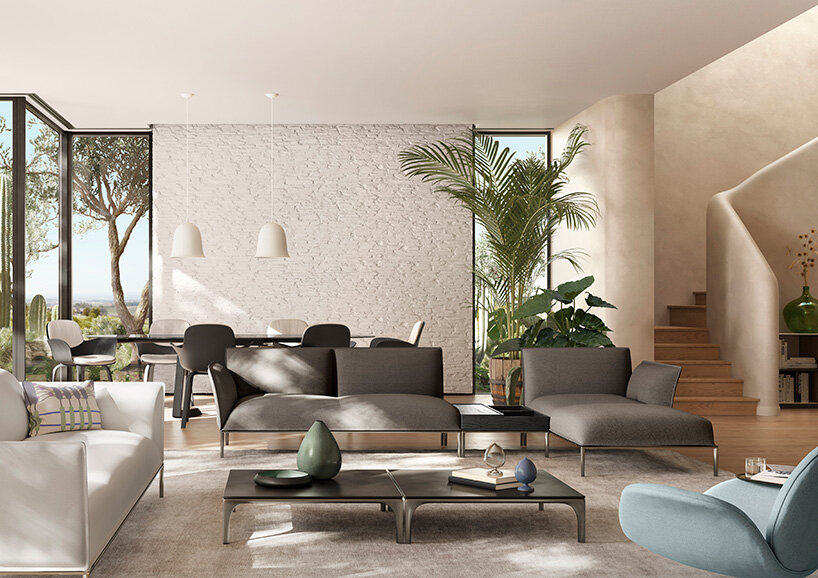 A SOFA THAT EVOKES LIGHTNESS
eufolia by marcel wanders studio for natuzzi italia is a modular system which evokes the lightness of one of the most characteristic elements of the apulian landscape: the olive leaf. the dutch studio created a compact sofa in which the slightly flared design of the armrests and backrests gives the project a welcoming aesthetic, while responding to the need for multifunctional living areas with limited dimensions.
the eufolia sofa explores furnishing solutions with table tops that can be integrated between the seats, amplifying the modularity of the project. it also considers different spaces, therefore it's available in numerous configurations — from two seats to a sectional version. the light and harmonious silhouette is complemented by the glossy black metal base. the sofa can be upholstered in fabric, leather, or in a special covering developed by marcel wanders studio and BYBORRE (more on designboom here).  this last one is a unique 3D ™️ yarn, knitted with a blend of the finest wool and recycled PES, which makes it extremely resistant and durable, and at the same time luxurious, comfortable and totally eco-sustainable.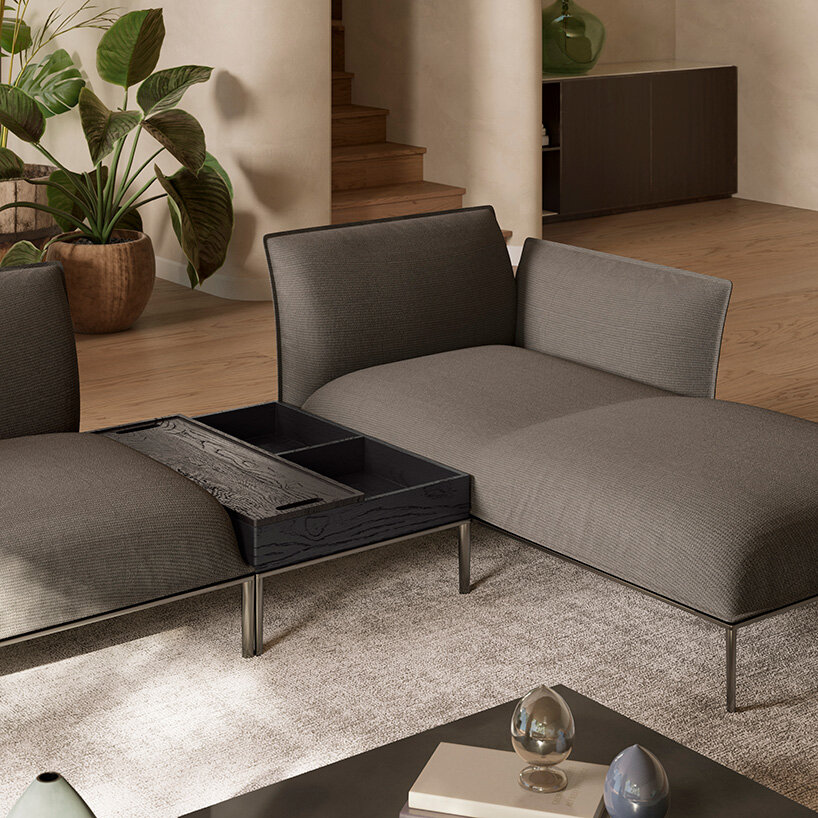 INTERVIEW WITH MARCEL WANDERS & GABRIELE CHIAVE FROM MARCEL WANDERS STUDIO
DESIGNBOOM (DB): among the designers of this new circle of harmony, you are the only ones who have worked with natuzzi italia in the past. in fact, PJ told us that it was with you that he started this novel idea of natuzzi italia. how is this new chapter and evolution of your collaboration with the brand?
GABRIELE CHIAVE (GC): well, as you rightly said, we were the first outsourced designer that PJ brought into natuzzi, something that was quite new for the brand. we started three or four years ago and it was a very good start. we got to know each other, we did great things, we did some mistakes, we learned how we work and how natuzzi works. and that takes a bit of time. now, after three years, three or four collections, we really, really understand each other. we understand what natuzzi needs, we understand what we can deliver to natuzzi to be on the level they want to be.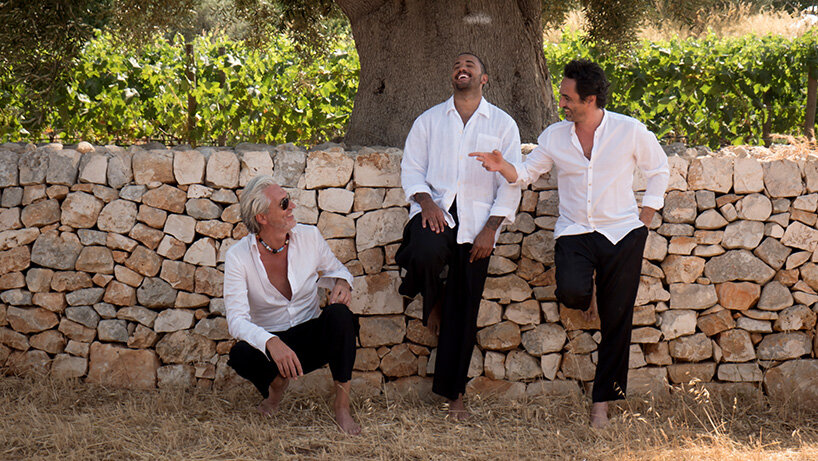 DB: the previous collections agronomist and oceanographer drew inspiration from apuglia and its characteristics. the new sofa is called eufolia with a direct reference to the region's flora. could you walk us through this project?
MARCEL WANDERS (MW): I think what we tried to do – and what we like to do with companies – is to blend the genetic formula of a company and the genetics of the studio. when we do this, we get the best out of both worlds. natuzzi is a special company for a few reasons, but one of them is that they are really dedicated to their people, to the surrounding, to the land. their production is not made in china, it's here in puglia. for them, what is local is very important and so is the way of acting as a family. I think it's very beautiful and very special. we found it therefore interesting to have our inspiration and our thoughts, grounded and embedded in puglia: in the nature, in the water, in the green.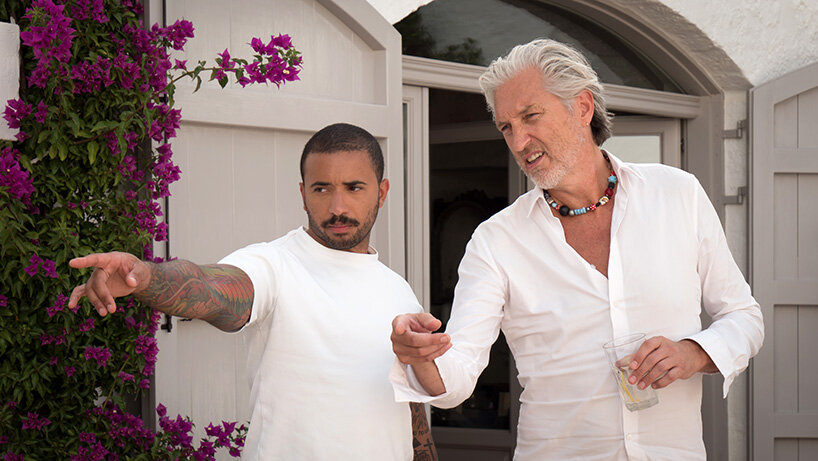 DB: what is micro living for you and how did you approach the issue of reduced living spaces?
GC: this was tricky because natuzzi's sofas and systems are very comfortable, but also very large, somewhat envisioned for big spaces. we thought why not creating a project that would be more urban, more for spaces which are definitely smaller but without compromising on the comfort and without compromising on the proportion of a beautiful system. therefore, eufolia is like a scaled down sofa system in proportions. it's very light, it's smaller, and it recalls the leaf of an olive tree. it's also very versatile, and it is able to connect with different ways to work or to sit with family and friends.