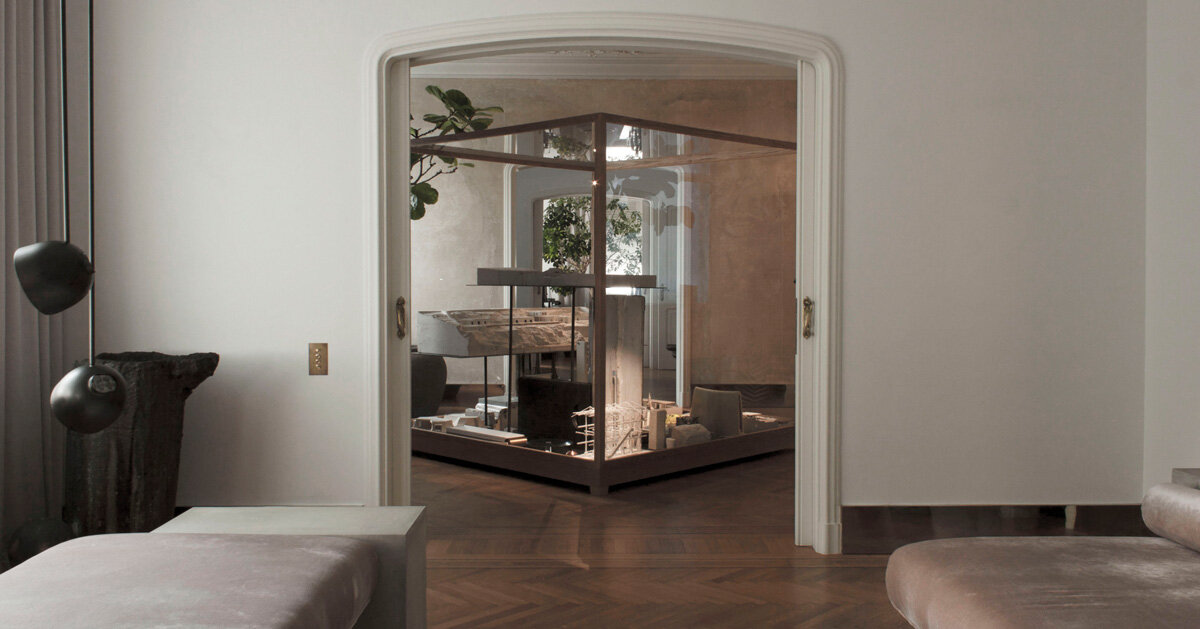 DESIGNBOOM VISITS KOIS ASSOCIATED ARCHITECTS' STUDIO IN ATHENS
kois associated architects is a greek architecture firm founded by stelios kois in 2008. the athens-based studio works across various fields of design, from architectural projects – both private and public – to exhibitions, interiors and furniture. the mirage residence in tinos, the cafe at the museum of cycladic art in athens, the gagosian gallery in athens, and the blurry venice installation at the 2019 biennale, which kois envisioned as artistic director, are just a few examples of the firm's diverse portfolio. though morphologically very different, all their projects are developed through a unique process that focuses on timelessness, attention to detail, and to the surrounding context.
'our architecture does not fit into a particular look or style, which we simply repeat or adapt depending on the case just to be recognizable. it is a thing that is born entirely from its ashes,' stelios kois tells designboom.'we have been blamed for this, for the fact that every work is as if it was made by a different person. they have said it badly to us, but we have taken it as a compliment.'
located in the heart of athens, in an emblematic building in kolonaki that also houses the embassy of peru, the firm's studio space stands as the perfect physical manifestation of its founder's architectural principles. described by kois as a 'monk's cell', the serene interior features timeless elements and materials that coexist with contemporary works of art and design. see images of the studio and read our interview in full below.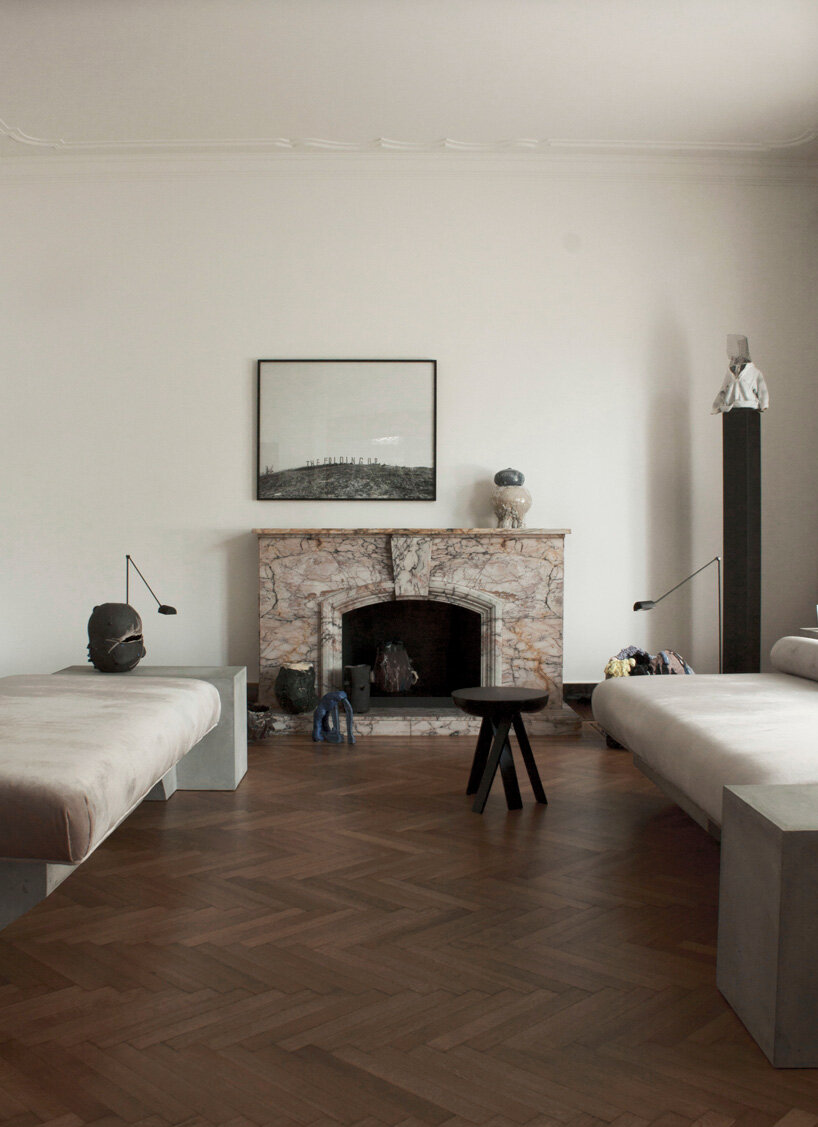 studio images by anestis michalis
INTERVIEW WITH STELIOS KOIS, STUDIO FOUNDER
designboom (DB): when did you establish kois associated architects?
stelios kois (SK): I started the studio on my own at the end of 2008. I don't know if I would do it now, it was a bit like a game to me then, I didn't know the kind of world I was entering into. the first office was located in vassileos konstantinou and riggilis, and we left that space about a year and a half ago. the difference with the other studio is that here it is much quieter, a bit like a 'monk's cell', while in the other it was constant panic. I understand the appeal of the lab aesthetics, but I like everything to be much calmer, and to be able to do everything through a specific procedure. here we have a lot more space, there is a dedicated space to make models, space for offices, a very large library. we are 20-something people and we work as a family, we all eat together, there is someone who cooks here; but still, you can see how calm it is.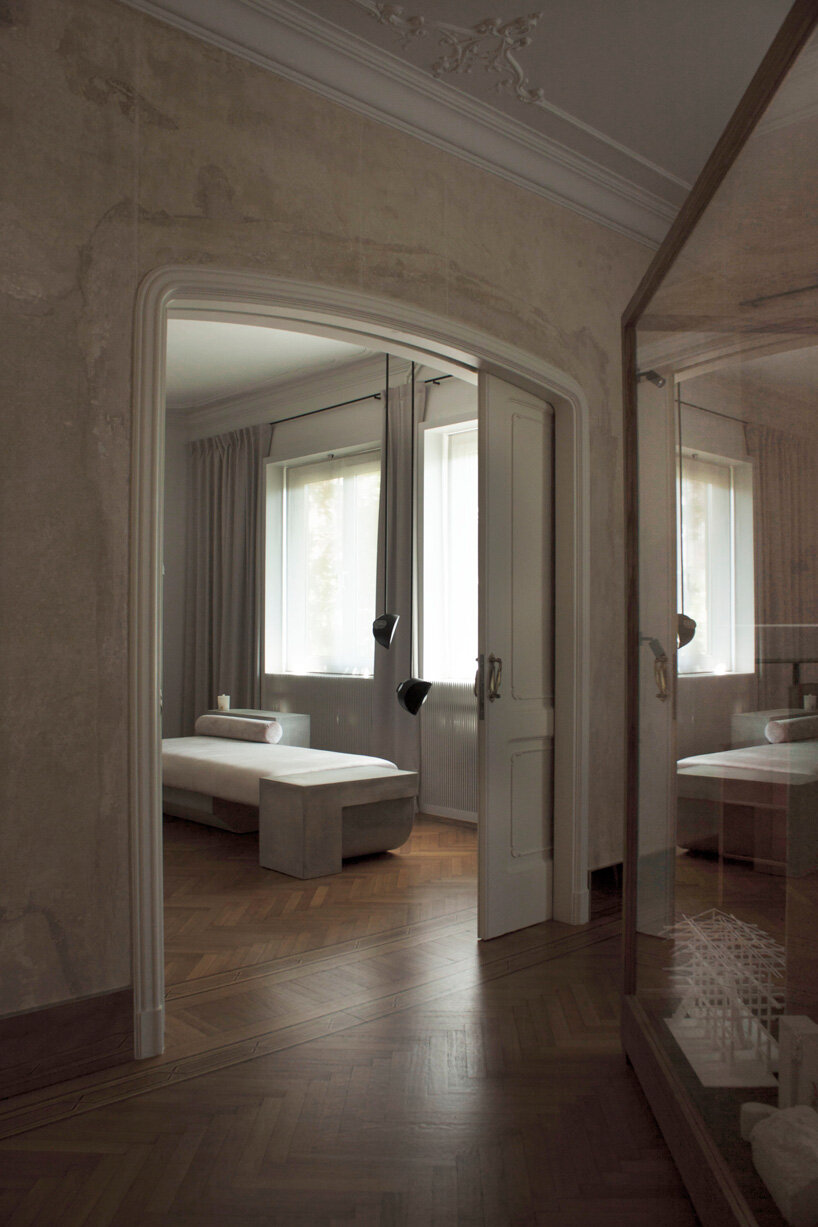 DB: what kind of projects did you start with?
SK: I mainly worked on residential projects for many years. I had a very specific philosophy for architecture, so I focused on that, and I had very specific set of moral principles, which I still do. I do not know to what extent these could correspond to the greek market, or to what extend they were compatible with what they wanted back then, because most people then wanted something very fast, they were not interested in concepts and things like 'matter', or 'decay'. all that was useless for them, they just wanted to have something to impress others. for me it was just the opposite. that is, I am not so much interested in impressing someone. if someone sees my architecture, they understand that it's not one that wants to make an impression. so, in the beginning I started making houses, and the first project that I did 'publicly' was a pastry shop. it had received a lot of publicity because it was something very special, very different, and then that started to make us better known to the public, while so far all we did was private, and had nothing to do with the press. we started to open up to the press when we started to work on public projects, which their owners were interested in showing, so we entered a different logic. that's about how the story started.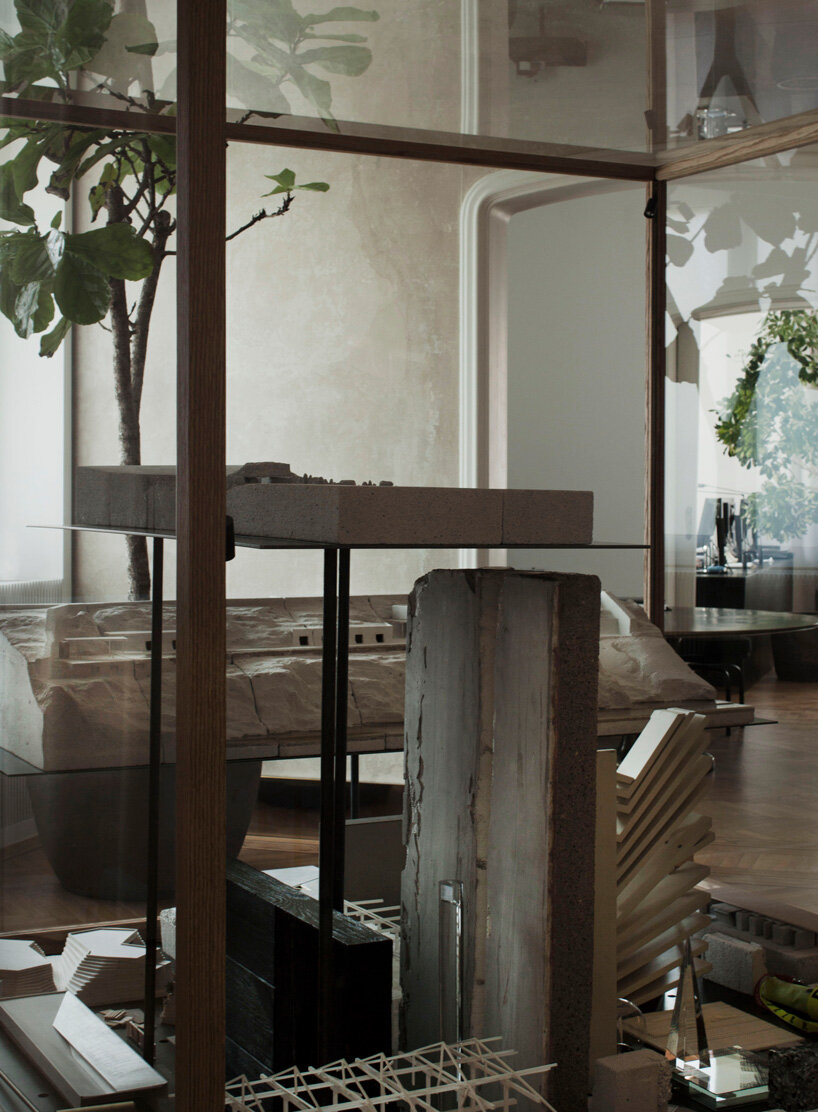 models and materials are encased in a glass box, set at the center of the studio
DB: what is your architectural philosophy?
SK: if you go to the 'about us' page on our website, we don't really have a resume, but we have some videos that we made instead. the way we set up our website, our image, or the way we approach things is addressed to the audience we want to have. I'm not interested in anyone knowing about me or talking about me. I am interested in the one who will come as our client, to embrace the philosophy for which we work. this makes it easier for us to be able to create projects that will always be at a better level. for us, clients have a very important role in the project. our architecture does not fit into a particular look or style, which we simply repeat or adapt depending on the case just to be recognizable. it is a thing that is born entirely from its ashes. I sometimes hear or read this phrase in interviews, and then I see the works and they are all almost the same. but we have been blamed for this, for the fact that every work is as if it was made by a different person. they have said it badly to us but we have taken it as a compliment. for us, the owner or the people we work with in a project play a very big role. and our philosophy is generally based very much on the whole architectural structure, that is, on all the things and all the conditions that a work is created upon. the only common thing that our projects have is the process we work with. there is nothing else in common, particularly morphological. the way we work, the way we approach something, or the detail with which we focus is common in all, whether it is a large-scale or small-scale project.
'time/allusions', part of the 'about us' videos
DB: however, there are some elements that, I find, create a certain link between some of your projects. the combination of contemporary, or futuristic, elements with more classical ones, evident, for example, in the museum of cycladic art here in athens.
SK: it is the process that is common. the museum of cycladic art was done as follows: they called us, they explained the problems that the building had, and they explained that it should not be demolished. we identified the main problem, which was that the museum of cycladic art was never recognizable. at some point everyone misses it. I do not mean the building of ernst ziller, I mean the museum of cycladic art at 4 neophytou douka street. the ziller building is granted by the state as an auxiliary, but it is not the actual museum of cycladic art. we tried to give the best possible solution at all levels, and the date that the project was designed also matters, because it was designed in the middle of the crisis. we could not tear it down, the collection could not leave the museum, and our solution had to be able to be built in phases. at the moment, some parts have been realized but not the entire proposal.
so, having the problem that this museum 'disappears' and is not easily recognized, we tried to bring out its character in its exterior image. the existing building was designed by architect ioannis vikelas, who, at the time, was putting up all these mirrored glass surfaces, and it was around the period that he had already established his architectural identity. the museum was built around 1980-85. the street has buildings on both sides, which are almost identical. this kind of façade, though not extremely impressive in shape, uses a material that has such an impressive effect in reflecting the buildings opposite to it. therefore, to the viewer, it appears as a continuous surface, and if someone doesn't accidentally see it, it's almost impossible to notice.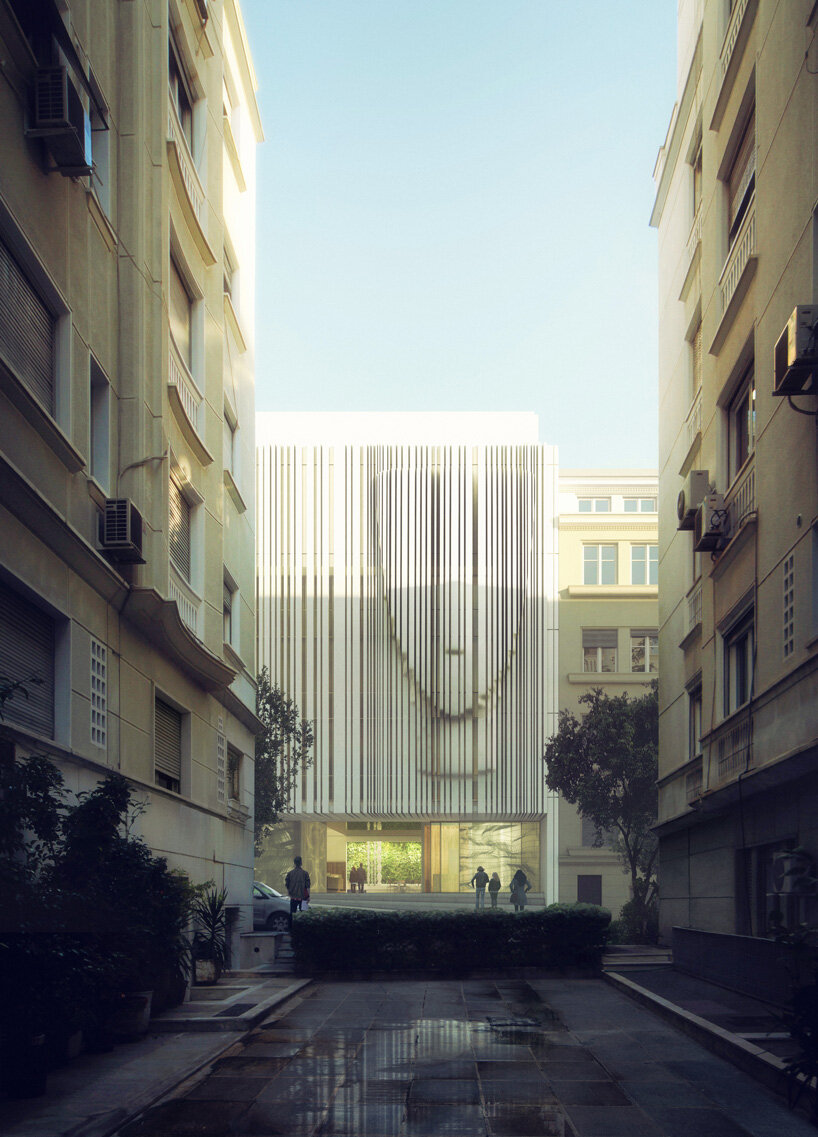 the museum of cycladic art in athens | visualization by MIR | see more on designboom here
(SK continues): what we did was create a visual 'pause' on this façade, and allow the museum's character to come out through that pause. we made this surface of thick vertical elements and placed it above the glazing, and we also opened up the entrance. at the time, in order for the building to carry a certain prestige, vikelas had added a marble entrance. now, history has shown that museums must be open and inviting to the public. so the second move we made was to take out this marble entrance, freeing the ground level completely and extending the foyer to the pavement, while on the facade we created this blind to stop the mirroring and, immediately the volume of the museum popped out.
on top of this new façade, and in order to give the museum a more distinct identity, we created the outline of an early cycladic marble head figurine (more on designboom here). but because we did not want it to be something very graphic, we did it through a play between form and light. because, what are the cyclades all about? shadow and light. so we used these two concepts to be able to leave a strong mark in the city. it is never our intention to do something that is innovative or new, the solution always comes from discussion. even as a public building, which needed an identity, what we did was to remove all the unnecessary information, which in our opinion was all that, and to polish its personality, which is that it represents the cycladic culture.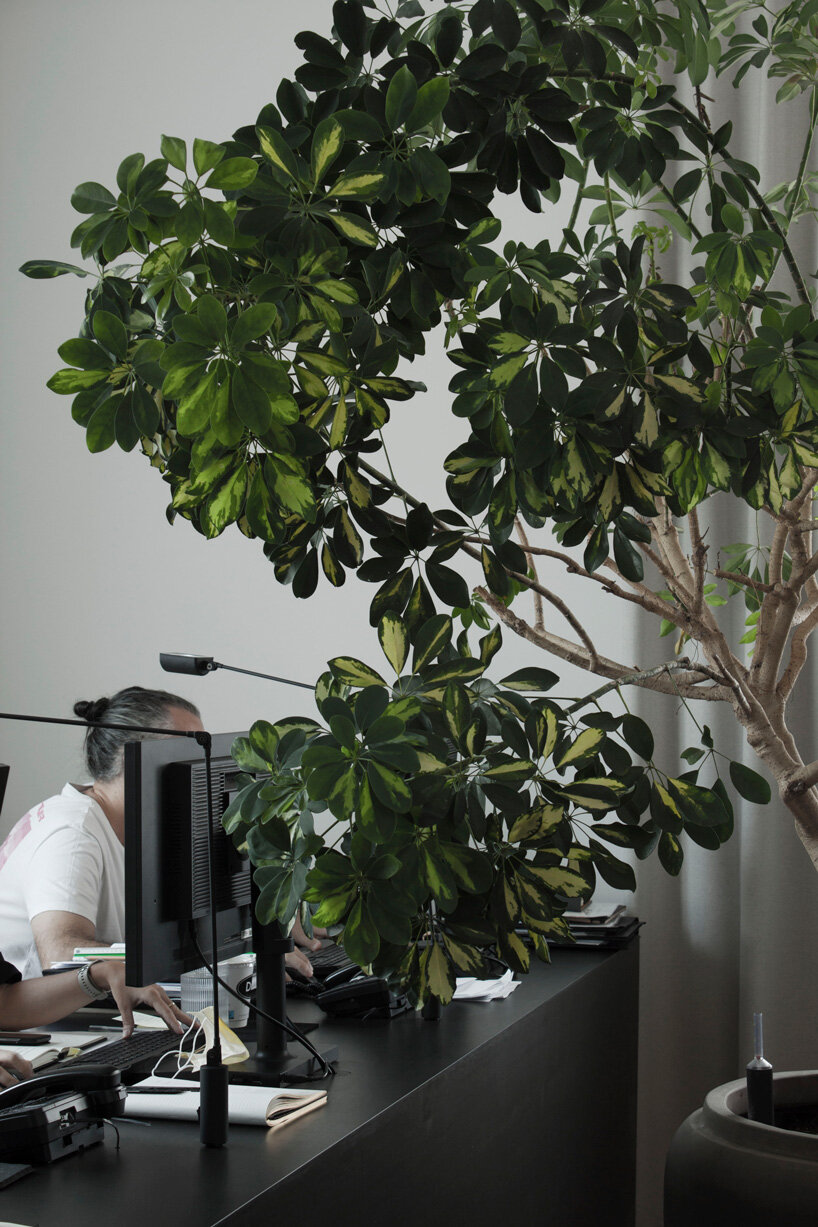 DB: can you tell me more about 'mirage' and 'shimmer', two projects that both use reflection as a spatial feature?
SK: the way they use reflection is different. 'mirage' (more about the project here), the house with the pool, uses the water as a liquid reflection to 'disappear' into the landscape. 'shimmer' (more about the project here), the restaurant that we made in the forest, essentially incorporates a part of the forest. that is, the forest is still inside the restaurant, we just placed a canopy where the covered part of the restaurant is located and we use reflection simply for this canopy to not have a presence.
DB: I understand that your approach is also very much about the elements that already exist in each location.
SK: we are always interested in the existing space. to tell you the truth, if we made the house in tinos many times, I would probably not have to work anymore! it's something everyone wanted. on the contrary, it was a project that made me panic when it got all that publicity back then. I understand its power, and I understand it even now, after about nine years. this project became popular because a journalist saw it on our website and asked for it, and we were happy to provide material. from that moment onwards it was chaos!