discover the sinmyo house by keitaro muto architects 
keitaro muto architects recently completed the SINMYO project as a 144 sqm private house in the city of ichinomiya, japan. at ground level, the residence appears as a typical house-shaped volume with a minimal and grey-colored façade design. moving further up at bird's eye view, however, the pattern breaks: a white colored roof appears, with one side of it exposed to reveal a vibrant outdoor space illuminated by natural lighting.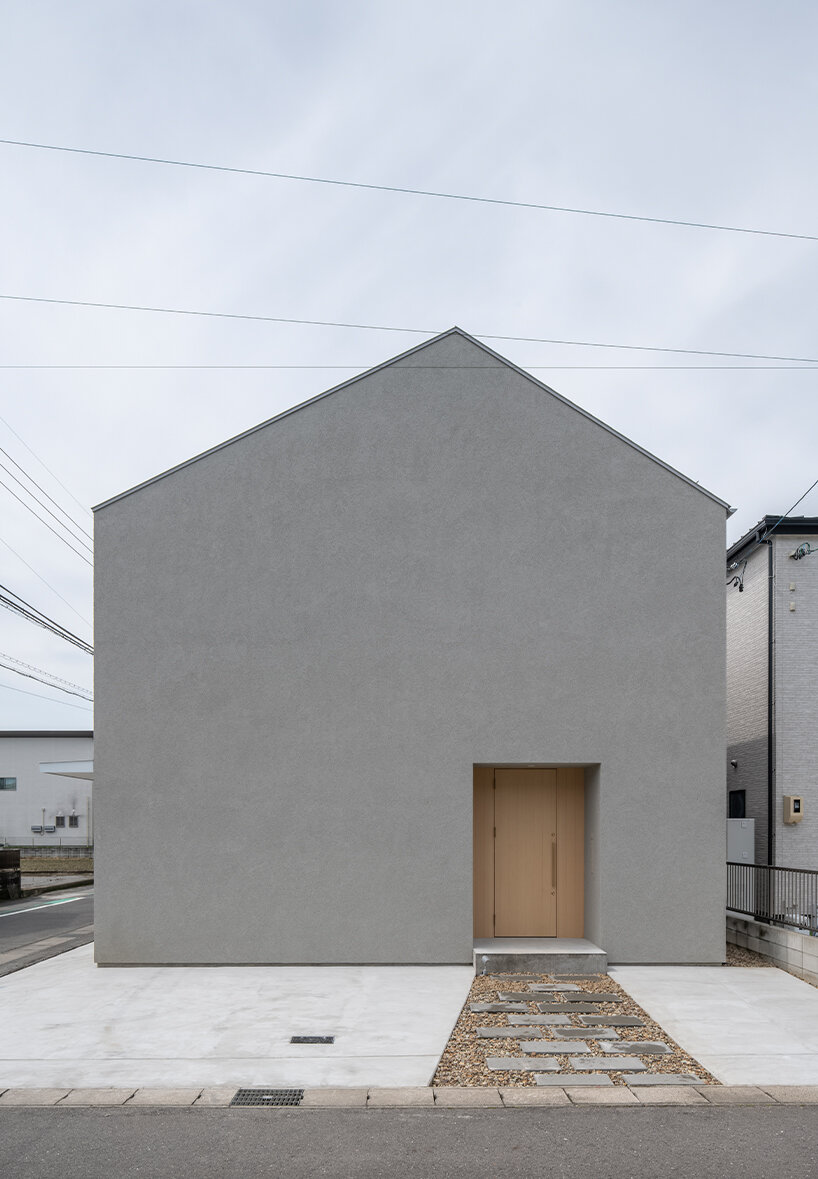 all images © tololo studio
the owners had originally requested a garden as part of the design but due to the lack of privacy in the corner lot, the team at keitaro muto architects dedicated a large chunk of the house volume to designing an outdoor space accentuated by green elements. light-colored wooden floors populate the garden-like area, while a darker parquet defines the interior space – creating a sort of border where one world ends and another begins.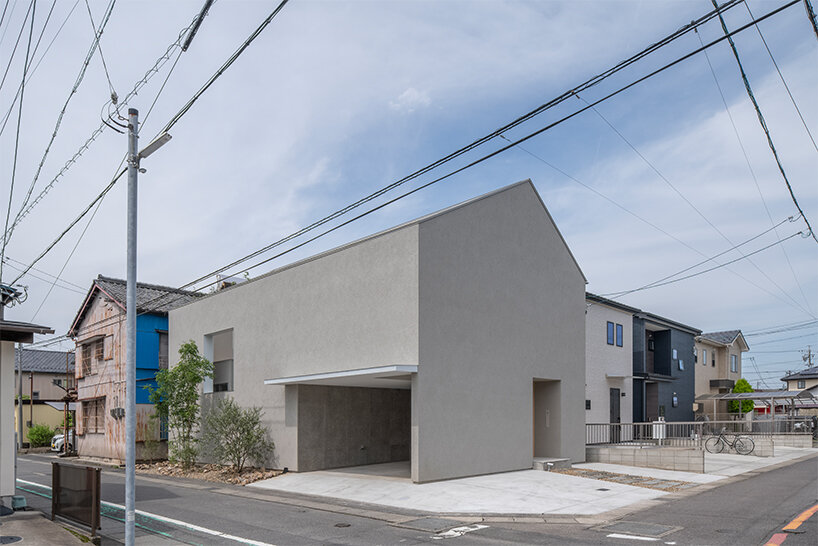 at ground level, the SINMYO house appears as a typical volume with a minimal façade design
just above the outdoor space, slanted aluminum louvers were installed to act as an extension of the covered side of the roof and allow for natural light to infiltrate. the pitch of the louvers was defined in such a way that brings the space between the interior and exterior closer. meanwhile, the indoor volume overhangs the outdoor space and is characterized by sharp variations in height that are reflected in the design of the house exteriors.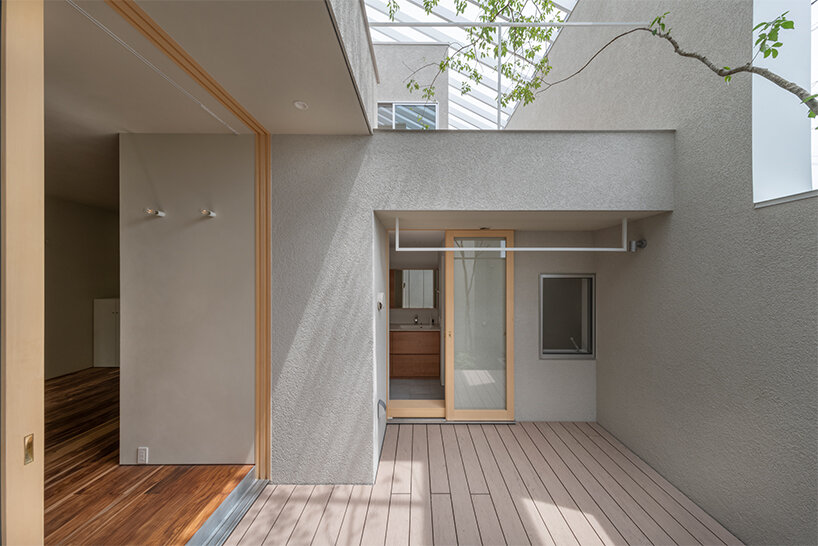 the parquet floors of the indoors and outdoors create a visual border between both volumes
distinct volumes binded by light
in light of the clear distinctions in spatial organization, one element binds the entire house together: light. for example, a glass-floor corridor on the second floor gives ways to sun rays coming from the exposed roof to penetrate all the way down to the living room. complementing the natural brightness falling from the roof,  various lighting features that change with time and seasons are delivered to the entire house.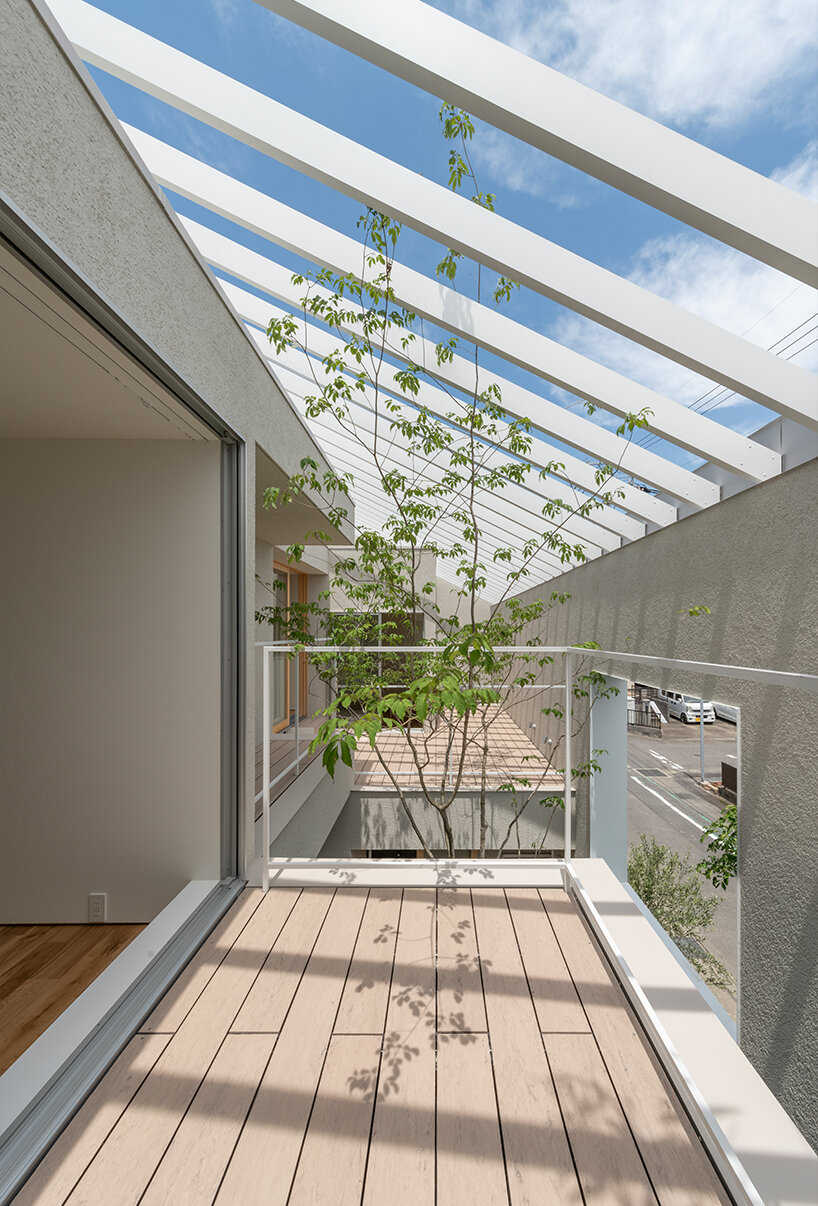 slanted white aluminum louvers cover the exposed side of the roof