LES COULEURS EN JEU — JULIO LE PARC'S FIRST SOLO EXHIBITION IN JAPAN
world-renowned argentinian artist julio le parc is presenting a color-fueled exhibition at tokyo's le forum. the light-filled exhibition space designed by renzo piano sees the artist unfurl his oeuvre, occupying the entirety of the maison hermès ginza, both inside and out, with a large-scale work that takes over the building's glass façade. 
titled les couleurs en jeu (colors at stake), the exhibition — which is le parc's first solo show in japan — focuses on color. starting from the gradation of black and white, the artist develops works using only 14 colors that he envisioned since 1959. the group of works does not analyze colors as in color theory, but rather regards colors as a geometric form or even as a metaphor of variability.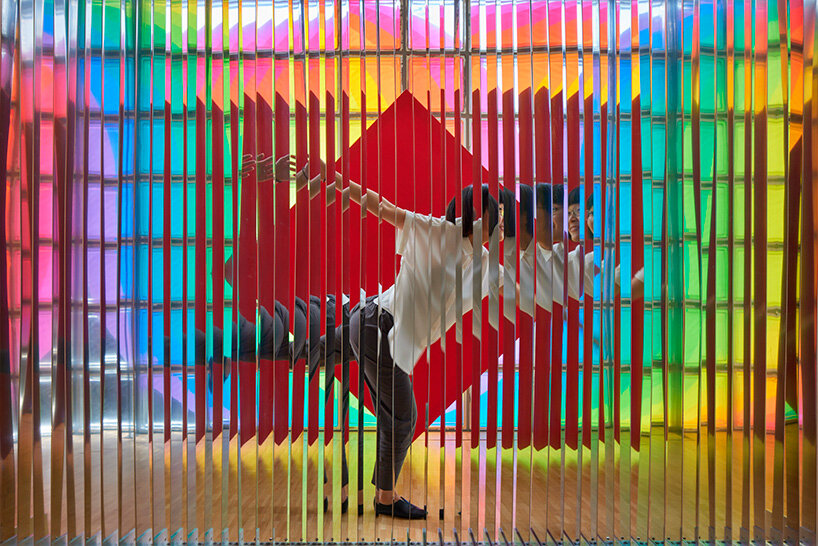 © nacása & partners inc
COLOR RESEARCH ACROSS A 14-SHADE PALETTE
now 92 years old, julio le parc has lived in france since 1958, where he has tirelessly pursued his research on color across a palette of fourteen shades. exploring repetition, rotation, and effects of contrast and variation, le parc's work touches the viewer with a range of sensations: from vibrating images, to the vertigo of the infinite, to the playful experience of movement.
it was in 1959 that the artist began his research into color theory and experimentation into the kinetic possibilities of painting. led by a distinctly utopian spirit, le parc approached each work conceptually: first, he conceived a set of logical parameters, and then he altered them to create the illusion of movement within the limits of the canvas.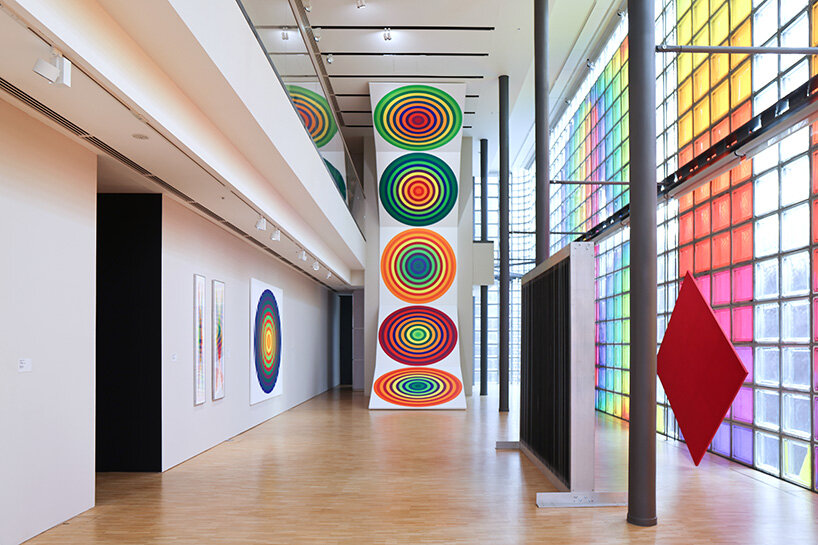 view into the exhibition
© designboom
initially, le parc limited himself to black and white, however in 1959 he developed fourteen colors, which make up a complete chromatic circle, allowing for endless permutations. as le parc says, these creations allow 'participation of the spectator without them depending on any specific knowledge of art history, physics or optics. instead, they were exempted from all these requirements and could establish a relationship through their own eyes. even if it was minimal, it was in a certain way direct, pure and without intermediaries.'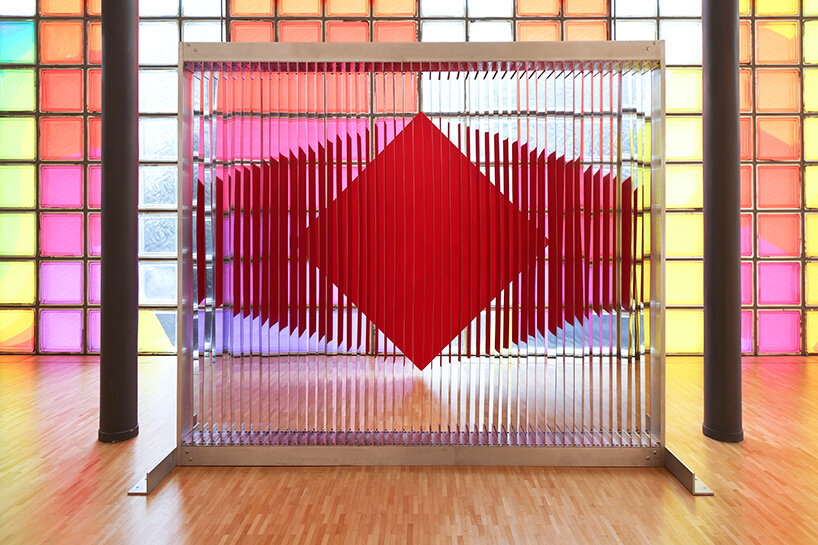 cloison à lames réfléchissantes
1966-2005
steel, 49 blades, acrylic on canvas
© designboom
the les couleurs en jue exhibition focuses on color, offering a rich immersion in julio le parc's decade-spanning career by bringing together early paintings with emblematic series such as la longue marche and the lames réfléchissantes, as well as with suspended mobiles, another significant aspect of the work of this major figure of contemporary art. starting from the gradation of black and white, the artist will develop works using only 14 colors that he envisioned since 1959.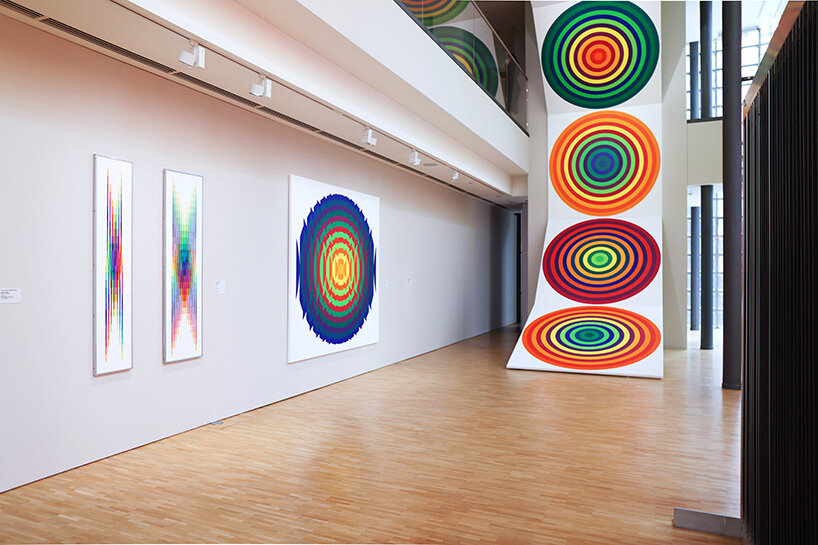 view into the exhibition
© designboom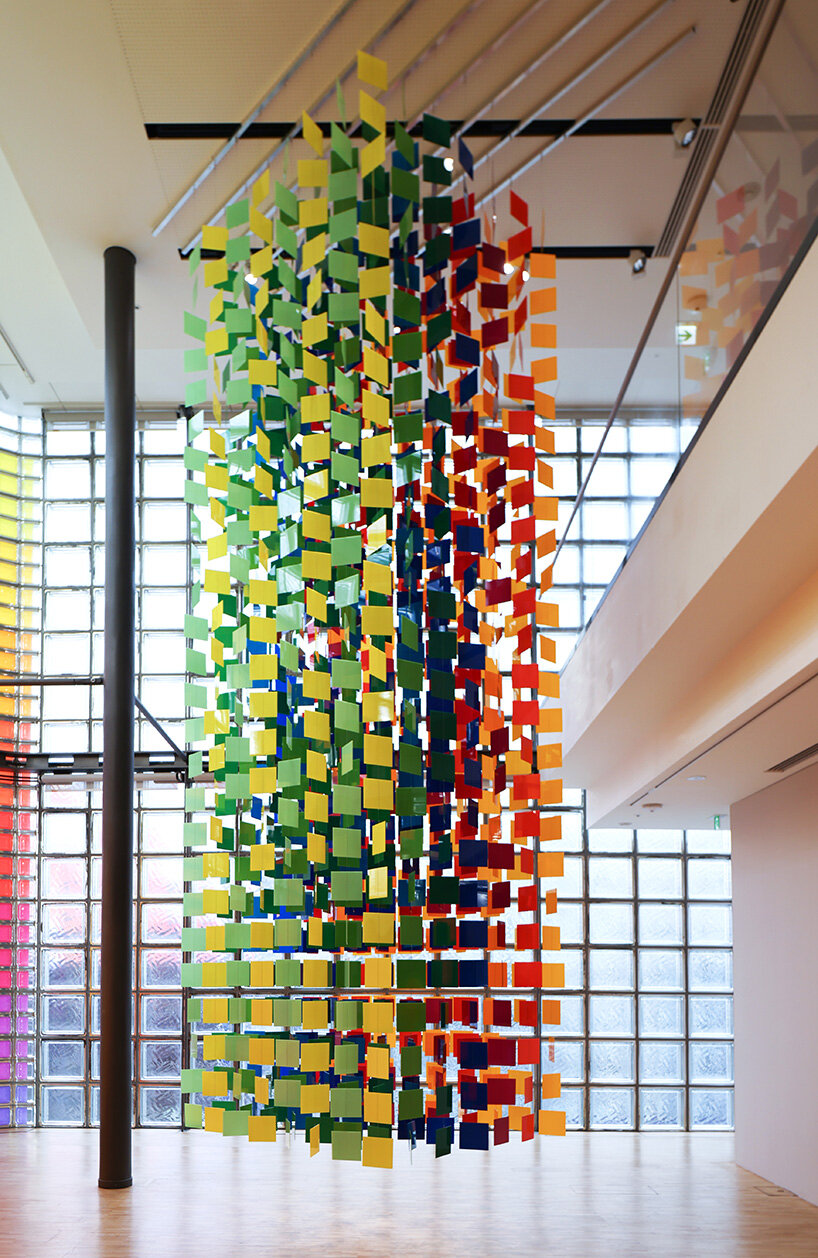 mobile 14 couleurs, 2021
1456 pieces of plexiglass, coated steel wire, metal
© designboom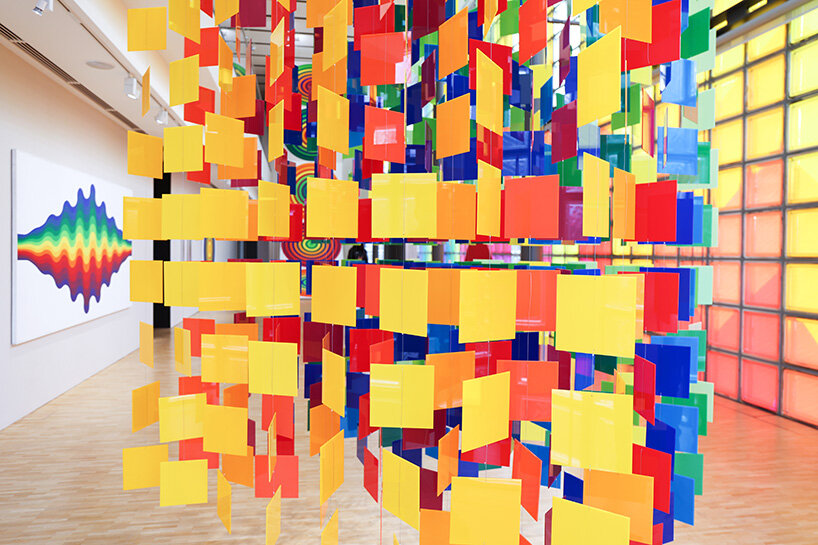 © designboom