We know what you're thinking – we're hardly over Thanksgiving and we've covered a lot of holiday ground! Our team of design experts has been working around the clock to make sure you have everything you need to get a jump on your holiday shopping. So, we thought now would be a great time for a recap of the holiday gift guides we've curated so far for 2021. There are still plenty more to come, so remember to check back in the Design Milk Shop for more – plus, some of these picks are already on sale for Black Friday! Now, onto the guides:
Who better to ask for design-led holiday gift recommendations than the experts who live and breathe design every day? We asked our staff for the holiday gifts they're loving and giving this season, and the Home Cycle Candle from Anecdote is one of many personally picked by the Design Milk team! Be sure to check out part 1 and part 2.
Looking to impress the tech-savvy person on your holiday shopping list? Resident Tech Editor Gregory Han handpicked the best in cool tech gifts – from modern home and computer gadgets to these high-tech wireless earbuds by Earin – to make finding the perfect gift easy.
Lifestyle editor Vy Yang spends a lot of time scouring the web for the best routine-elevating lifestyle goods. This Bathing Culture Mind + Body Wash is one that turns every bath and shower into an aromatic ritual. Find more life-altering wellness gift ideas among her curated picks.
Resident design expert and editorial director Caroline Williamson hand-picked the best modern holiday gifts that fellow design lovers are guaranteed to love and appreciate. From bookends that border on sculptural art, like the Concrete Ennis Tile Bookend by BRCJ Designs, to glassware, candles, and décor, every aesthete in your life will love these picks.
Say "thank you" to the host that does the most with this selection of unique modern holiday gift ideas, hand-picked by senior editor Kelly Beall! From radiant glassware and practical gadgets, to elevated home decor and this Life of the Party Puzzle by Piecework, these holiday gifts are perfect for the host or hostess who loves to entertain.
From the Instagram famous Beast Blender and gadgets to modern tableware and kitchen accessories, these are the best chef and designer-approved gift ideas that home cooks of all levels will love.
Because the only thing better than good design is wearing it, senior editor Kelly Beall curated our most coveted modern jewelry and watch picks. From handmade earrings and 3-D printed rings to high concept watches like the Till Black Watch by Projects Watches — these modern favorites will make the perfect holiday gift for that special someone on your list.
We know shopping for the person who says "don't get me anything" can be tough. So, we tracked down the best no-frills, functional holiday gift ideas – like the stunningly simple A5 memobottle – that are guaranteed to impress the discerning minimalist in your life.
We pulled together a fun collection of modern and creative holiday gifts for kids of all ages from toddlers to teens – like this Bauhaus inspired art structure play set by Follies – to help ensure that your gifts are the coolest presents under the tree.
Treat the traveler in your life to a first-class gift this holiday season thanks to our collection of modern and functional travel gift ideas. From an adventure-friendly reusable Porter Glass to a portable charging station for all your devices, these smart holiday gifts will have the jetsetter in your life traveling in style.
From this stylish wear set by Foggy Dog (casually named one of Oprah's Favorite Things!), to raincoats and boots designed especially for your furry friend, we searched far and wide for the pawsitively best gift ideas for pets and the people who love them.
The always useful and stylish Glam Copper Alarm Clock by cloudnola is proof that modern design doesn't have to break the bank.  We handpicked the best affordable gift ideas that Design Milk readers and editors alike can't get enough of — and they're all under $50.
Looking for one-of-a-kind holiday gifts for the design lovers on your shopping list? We hand selected the best modern gift ideas – like this portable and chic Bluetooth speaker by Gingko – that cost less than $100.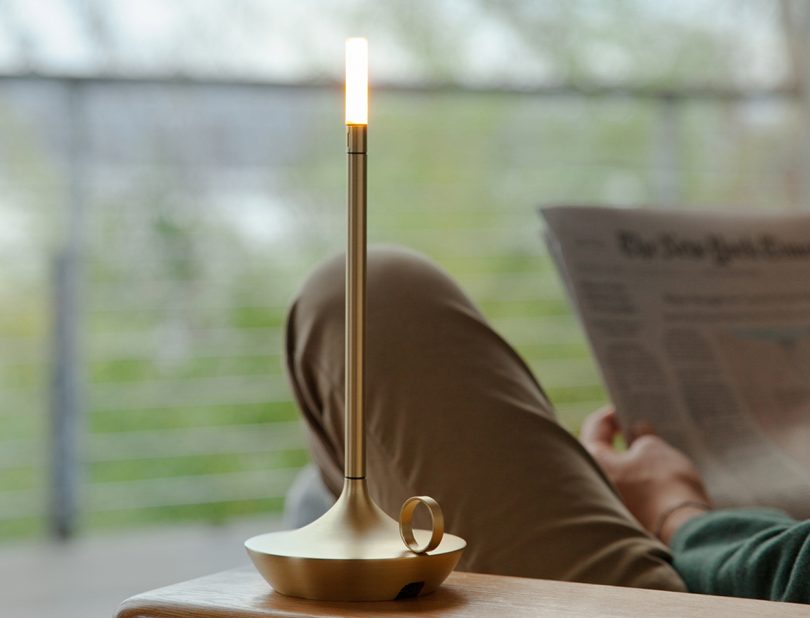 This collection of Design Milk reader and staff favorites will be instant favorites for anyone on your list — from the cult-favorite Wick Candlelight to a best-selling catch all box, these are the best of the best modern holiday gifts.
>>> For more holiday gift ideas handpicked by our team of design experts, visit the Design Milk Shop here! <<<