introducing the 'green ocean' marine farm 
japanese start-up N-ARK combines salt-tolerant technology with sea-adapted architecture to tackle the issues of sea-level rise and salt damage, which are worsening progressively due to climate change. in partnership with agritech R & D company CULTIVERA, the new firm aims to build a prototype of a floating marine farm named 'green ocean', using agricultural technology that can cultivate seawater as a direct nutrient source.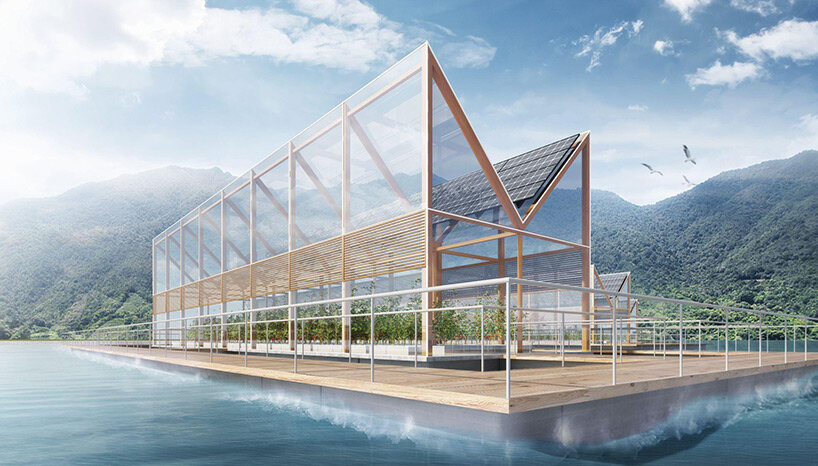 all images courtesy of N-ARK
salt-resistant building technology
introducing their new marine construction concept 'arktecture' (ark + technology + culture), N-ARK (find more here) intends to complete the 'green ocean' marine farm by 2022. the structure will take shape as a salt-resistant floating greenhouse made of thinned wood and carbon joints. upon being launched on the water, the farms will create two new green areas: a food production space using salty agricultural technology and floating on the surface, and a layer of algae that will improve the underwater environment. 
the distinctive angular roof facilitates the collection of rainwater, which is then mixed with seawater and used as fertilizer for the plants. cold seawater is also used for air conditioning within the farms. 'by creating a cyclical system environment, green ocean plays the role of an adhesive plaster of the earth' share the creators.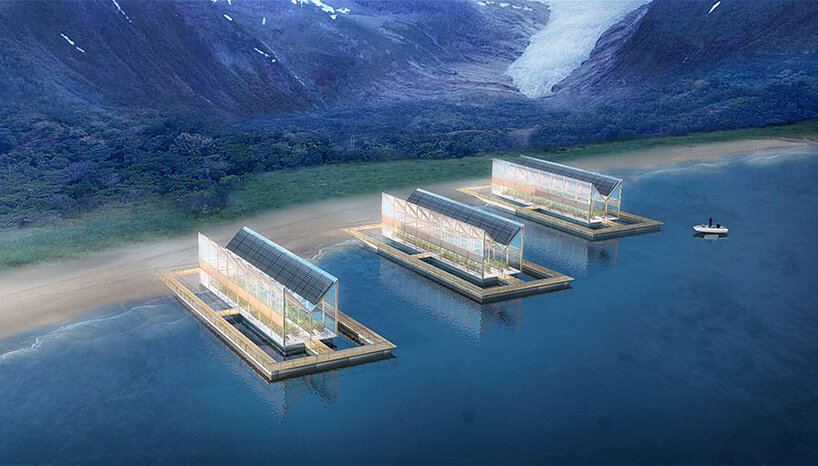 seawater agriculture and 'moisture culture'
seawater agriculture is a special cultivation method that can absorb water and nutrients in the ground and air by mixing and neutralizing alkaline seawater and acidic rainwater. as a result, a great variety of vegetables can be grown, by utilizing the minerals and nutrients contained in seawater. 
the basic technology behind seawater agriculture is 'moisture culture' which allows cultivation under humidity control. with this method, approximately 15 cm of the surface layer of natural soil can be reproduced with special fiber of about 5 mm, and vegetables with fortified sugar content and vitamins can be grown by evaporating water with special fiber and applying water depletion stress to plants. 'moisture culture' uses one-tenth of the water that is needed in conventional irrigated farming methods, and can be applied even in areas where water is not abundant.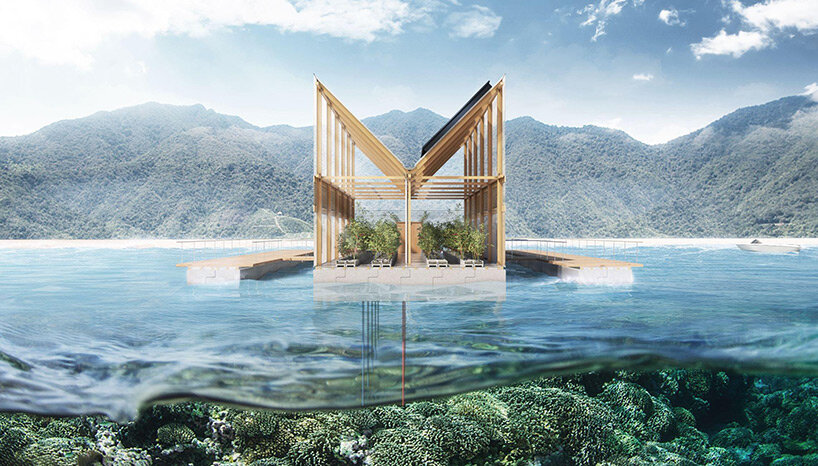 1/5
project info:
name: green ocean
company: N-ARK
myrto katsikopoulou I designboom
nov 02, 2021