PPAG architects redefines traditional learning spaces with its extension of an existing school campus in vienna, austria. the brief was to design a 17-class primary school for children aged 6-10 and a vocational school consisting of 23 classes for students aged 15-19. the realized extension, which rises six storys high, prioritizes a compact footprint, outdoor space for the children, and lots of natural light.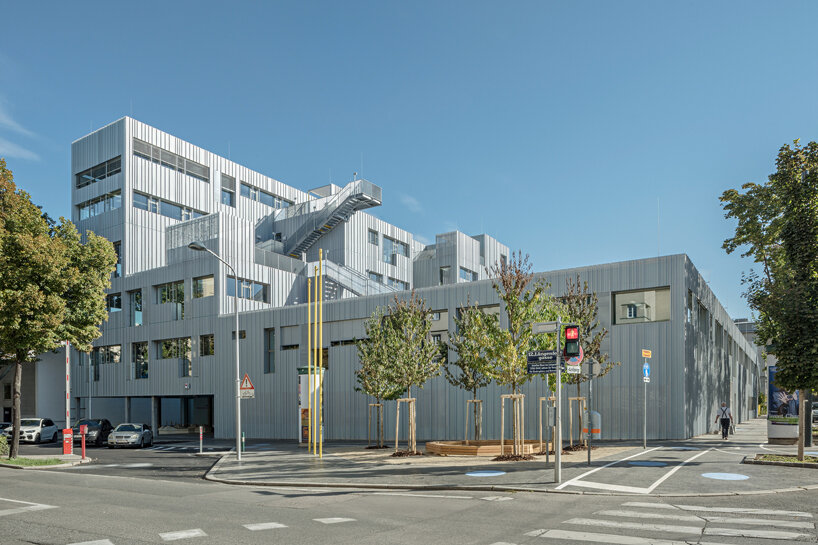 images by hertha hurnaus
the primary school occupies the horizontal part of the building on the first and second floor, in a rectangular shape of 50 by 64 meters. the vocational school is accommodated in the vertical part, which tapers towards the top to accommodate a 'practice firm' overlooking the city. this space gives the young students the opportunity to enjoy office-like conditions, affording them physical and mental space to plan a bright future.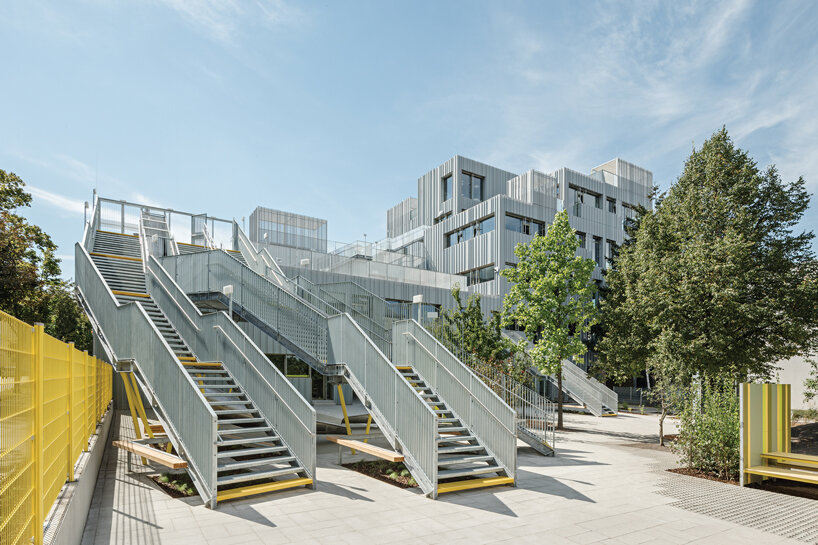 the primary school is designed by PPAG architects to meet the needs of contemporary teaching thanks to its spatial-pedagogical concept. it consists of four clusters, each with four to five educational rooms that are grouped around a learning landscape. the architecture allows educators to act as companions of small groups of children of various ages, from different classes. the building serves the purpose of acquiring knowledge and practices in many different ways. each educational room has an appendix that can be used as a nest or an oasis of quietude. the team rooms for teachers within each cluster are all linked through a terrace in the inner courtyard to enhance informal exchange.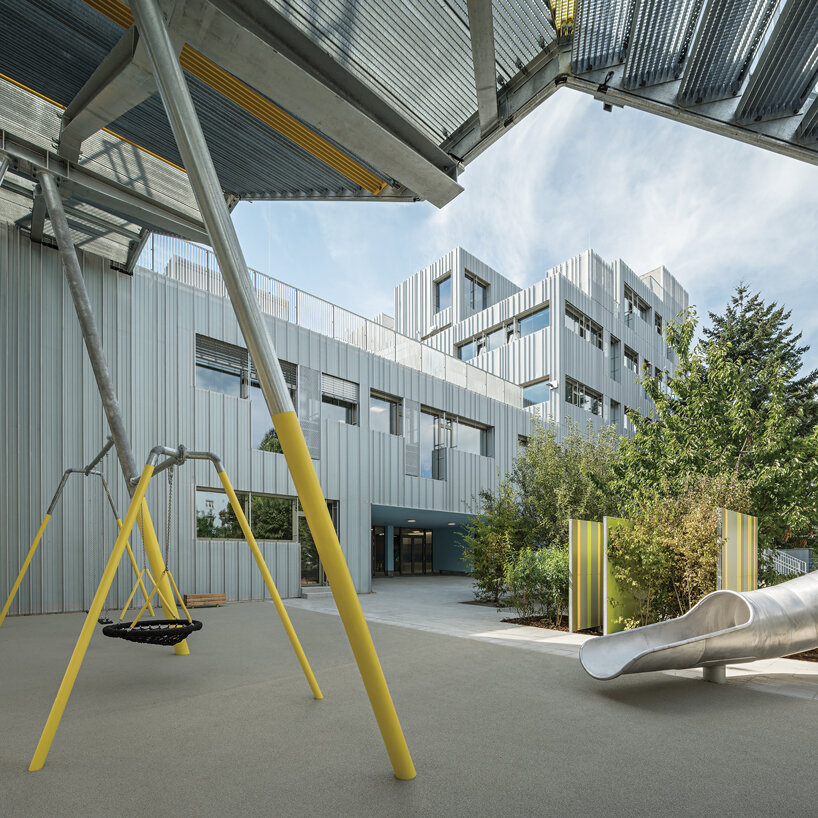 an age-related adaptation of the cluster system is realized in the vocational school. a large multifunctional space and the open spaces operate as points of contact between both institutions. a large terrace above the primary school and staggered terraces connected through external stairs are an integral part of educational space-related considerations. they are an important connective element, serve as emergency exits and are designed in a way that will be fun for children to use, but also suitable for teaching outside.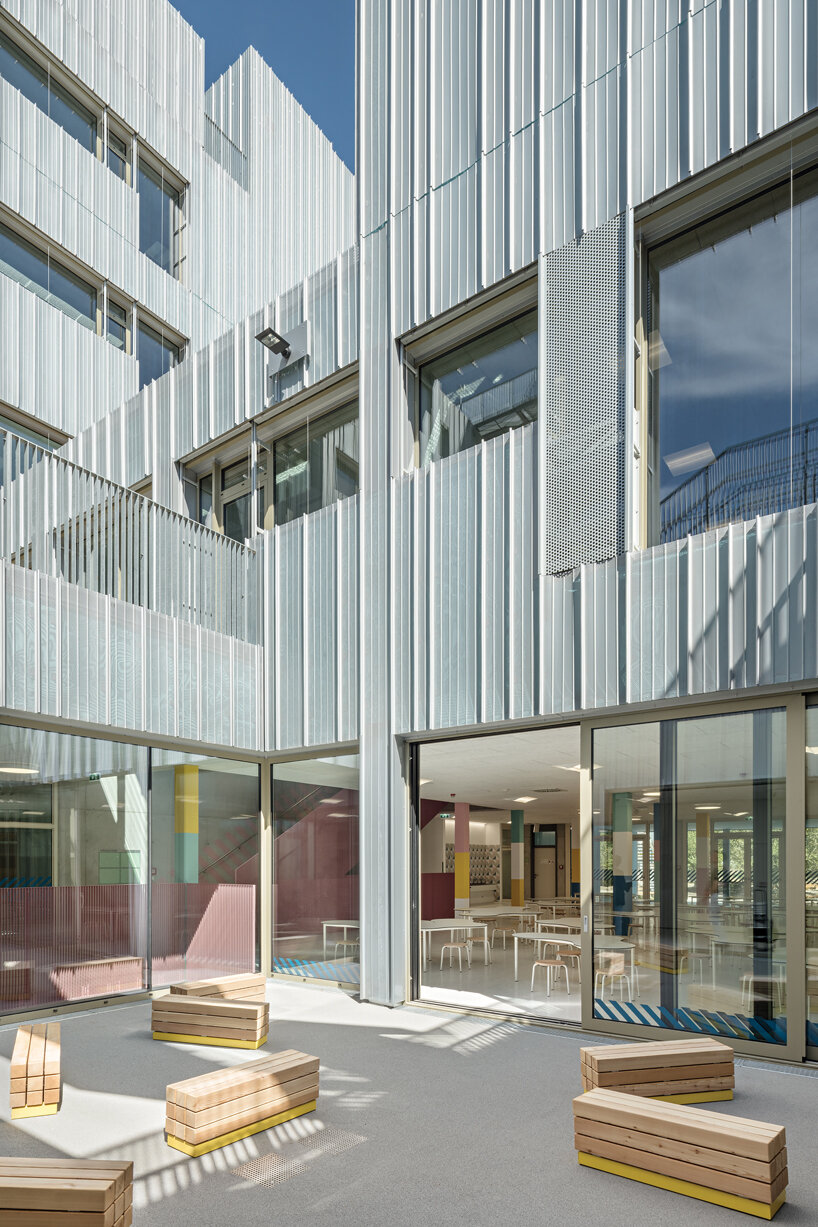 inner courtyards and cleverly placed floor-to-ceiling windows ensure a large amount of daylight and direct views to the outside, without feeling exposed. inside, mirrors enhance the light and the outside views, creating a 'continuous learning landscape' and a new spatial sensation.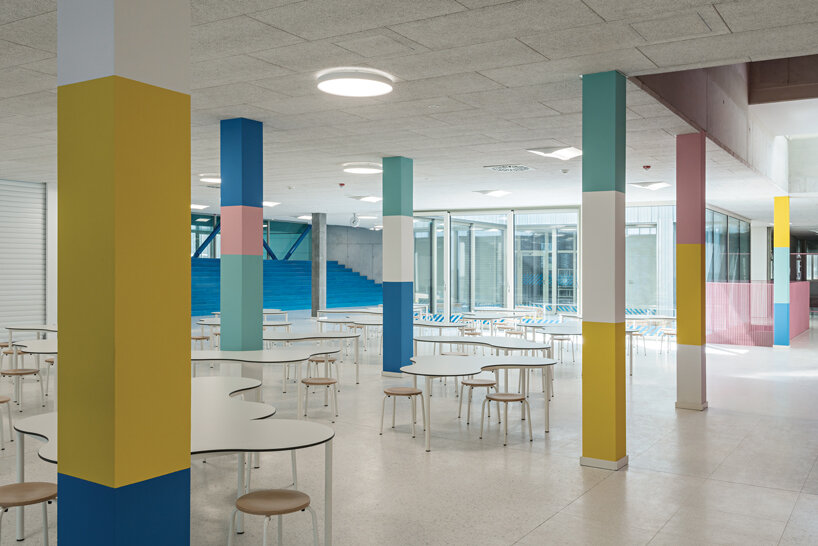 the custom-designed storage spaces can easily be reached by children on their own. using the exterior walls, the furniture nevertheless doesn't obstruct the incidence of daylight. a specially developed wall system provides an additional skylight with a light deflector above the shelves, flooding the inner space with daylight.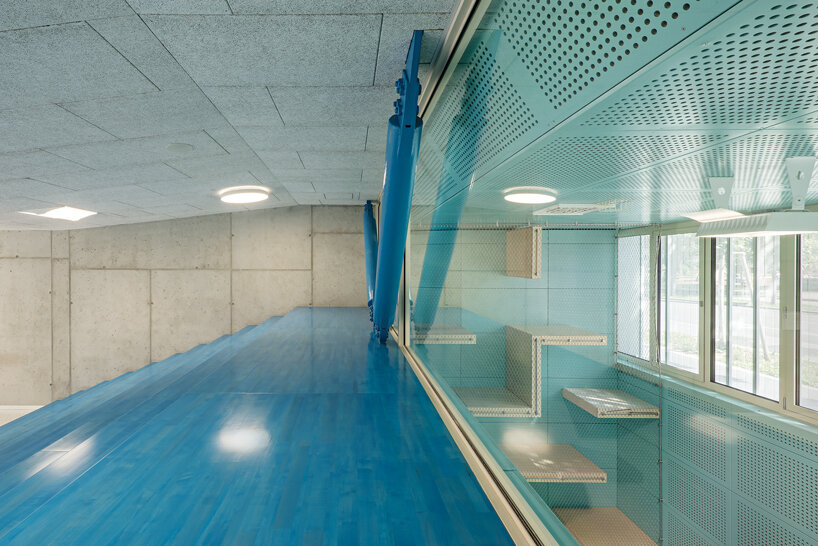 the façade consists of corrugated sheet with an underlay of blue wind paper. it changes its appearance with the passing atmospheric conditions. due to its highly abstract and ambiguous look, the school stands out, heralding in a new approach to school design.