kidosaki architects studio sets residence atop a hill in japan
'nanjo villa monadnock' by kidosaki architects studio is a concrete residence perched atop a hill in japan that features expansive views of the pacific ocean. the project comprises a pair of terrace houses that allow the client to fully enjoy the rich natural environment and sweeping panorama. set on a summit higher than the surrounding hills, the building and its site can be accessed via a ramp that cuts through a block of okinawan limestone. 'the ramp brings about an uplifting feeling as if you are being pulled into okinawa's open blue sky,' notes hirotaka kidosaki, founder of the japanese architecture studio. two exposed concrete walls that extend dynamically from northwest to southeast frame the sky and sea into a vertical scenery.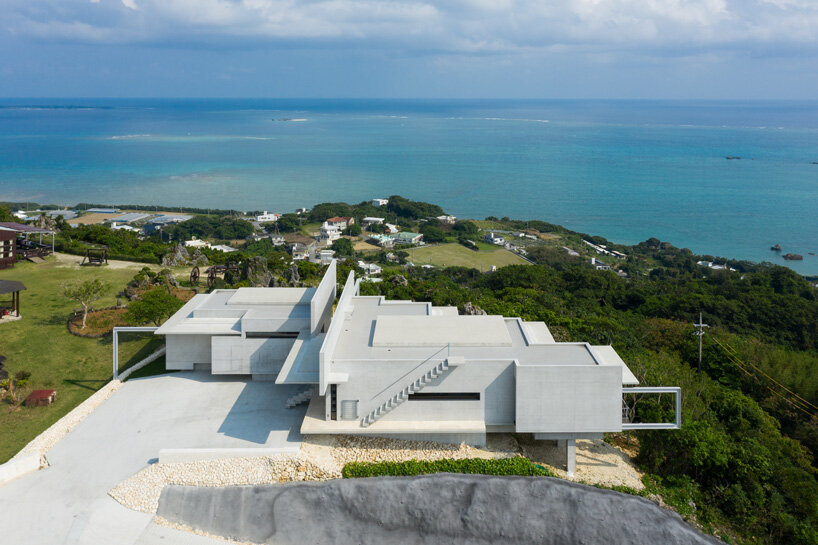 all images by 45g photography © junji kojima
nanjo villa monadnock captures views of the endless horizon
the site of 'nanjo villa monadnock' is on a small hill overlooking the pacific ocean in nanjo city, with views that focus on the horizon that separates the sky from the sea. kudaka, an island considered to be sacred since ancient times, can be seen to the east. 'the sweeping panorama allows us to appreciate the scenery throughout the day, from sunrise over kudaka to sunset in the western ocean,' says hirotaka kidosaki of kidosaki architects studio about the villa's surroundings. except for the adjoining property on the east side, all areas connected to the road are on a cliff. the ramp secures access on the west side, where elevation difference was minimal. the approach to the building is designed as a narrow composition with no views so that it becomes a prelude to the interior, where the view opens up to the horizon.
'every moment of the endless horizon running between okinawa's sky and sea, and the scenery of kudaka, which is the region's symbol and identity, are captured within the architecture frames,' adds kidosaki. 'these sceneries will continue to evolve, captivating the viewer with landscapes that no one has ever seen.'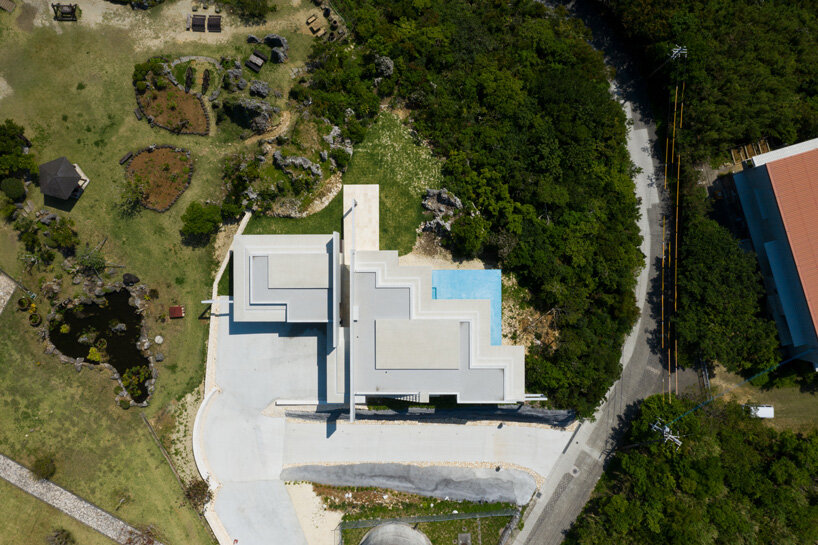 the villa's floor plan captures the open view as much as possible. the intermediate area created by the deep eaves and the deck provides a sense of continuity and rhythm, and the panoramic, painting-like scenery emphasizes the space's expansiveness. a geometric buttress, composed of wall columns and beams installed over the axis, serves as a framing device that crops the vast and wild nature into an impressive spectacle. 'the design attempts to actualize the site's unique features, both on the plan and in three dimensions, through the expansive flying geese arrangement and the framing buttress while creating a house that responds to and integrates with the surrounding environment at the same time,' the studio's founder concludes.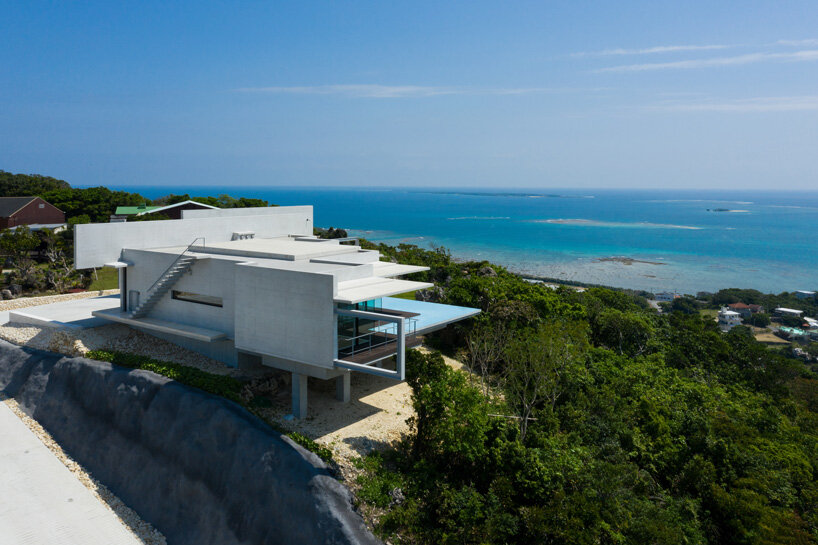 the villa enjoys expansive views of the pacific ocean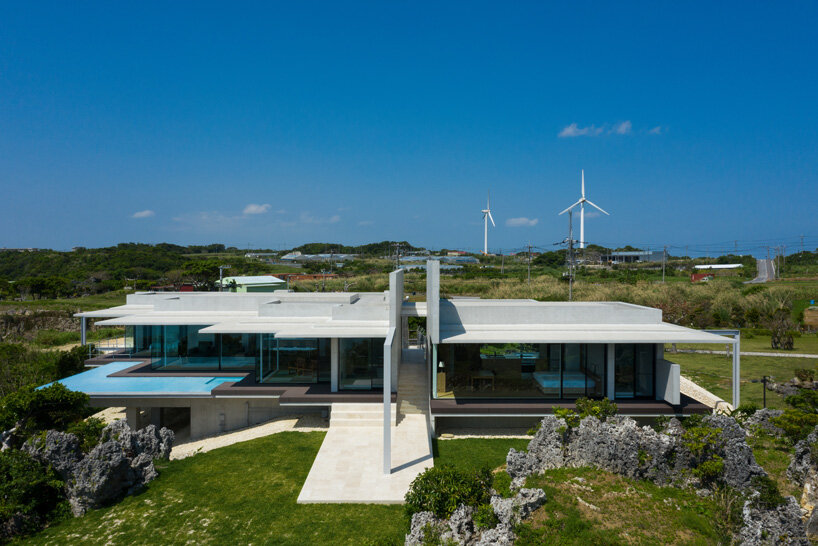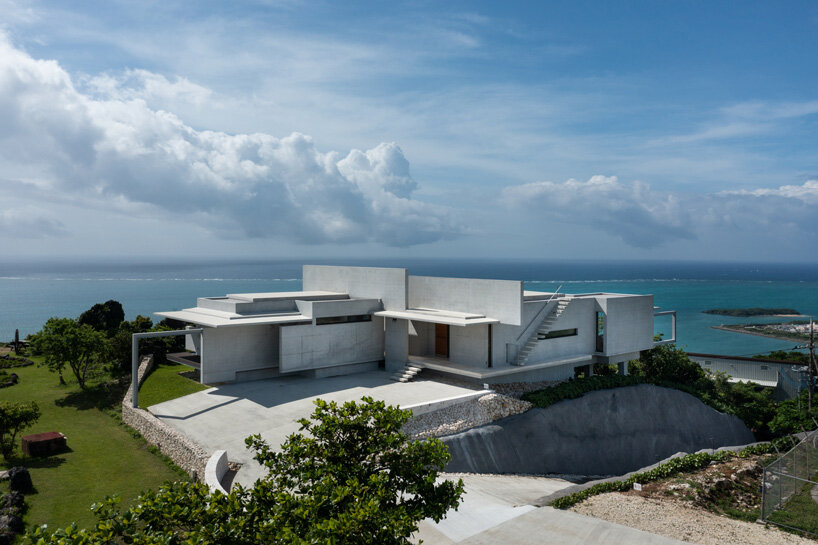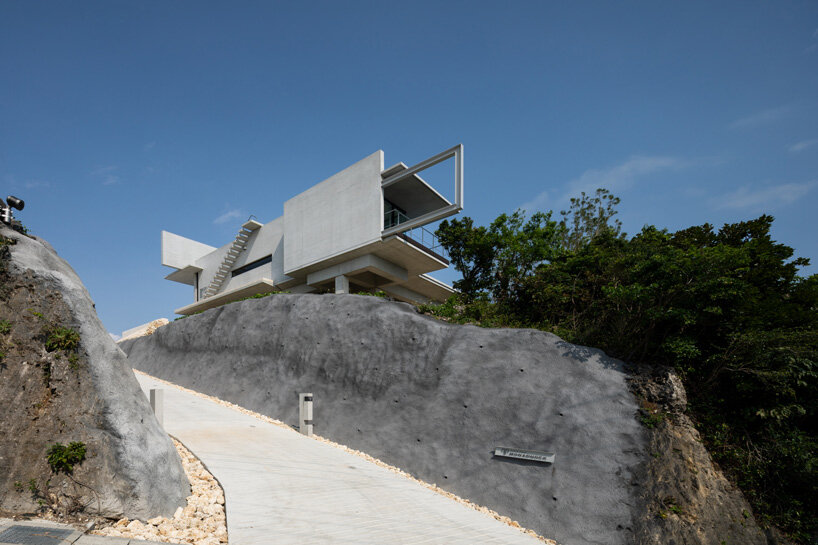 the building can be accessed via a ramp that cuts through a block of okinawan limestone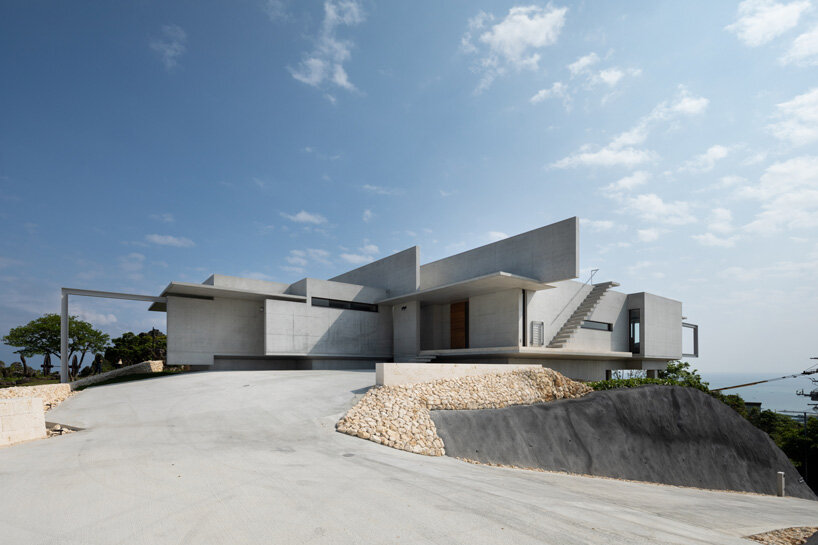 the ramp secures access on the west side, where elevation difference was minimal