'versus' tapestries by margrethe odgaard for ca'lyah
danish design and furniture company ca'lyah has collaborated with artist and designer margrethe odgaard to create a strikingly colorful series of  wall tapestries titled 'versus'. each piece is handwoven from natural wool and silk by traditional artisans in nepal. uniting himalyan craftsmanship with odgaard's highly attuned eye for color and textile design, the 'versus' tapestries are charged with a unique ability to reflect and absorb light – an effect that shifts and evolves throughout the day. 
driven by a mission to create a socio-environmental impact through design, ca'lyah brings together renowned international designers and craftspeople from around the world in a conscious interplay of cultures. long-held traditions are intermingled with modern production methods to create original, finely crafted furniture and accessories.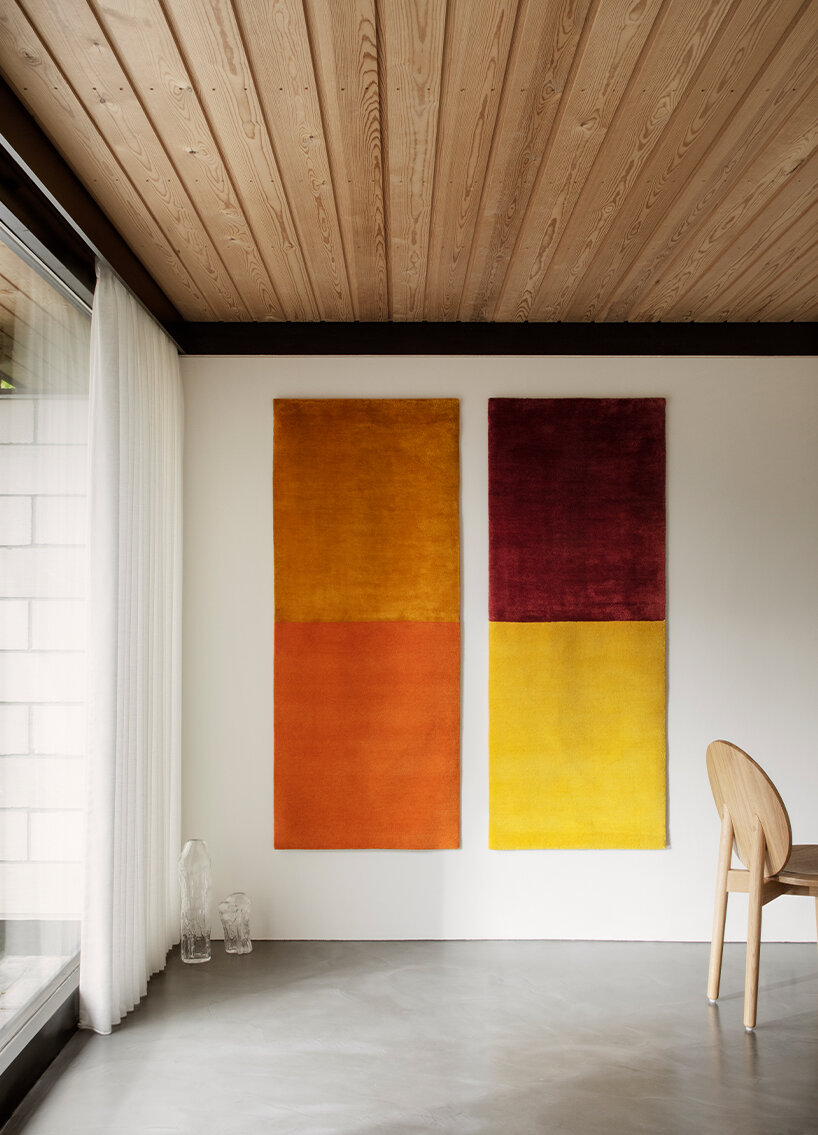 'versus' tapestries by margrethe odgaard | image © irina boersma
displaying the bold and vibrant colors of nepal
for the 'versus' tapestries launched by ca'lyah, and guided by her deep and innate sensitivity to color, margrethe odgaard was mainly inspired by the architectural surfaces of the nepalese urbanscape – particularly the ones in kathmandu where the tapestries were handwoven. this interest stems from the designer's research into the nuances of what she calls 'cultural color identity' in architecture and design. 
'unlike natural colors, colors of architecture and design have been decided by humans, and the color scheme therefore acts as a kind of underlying mirror of the given culture. I have learned that by studying the color of a specific culture you can learn a lot about the underlying values of that particular culture', odgaard tells designboom.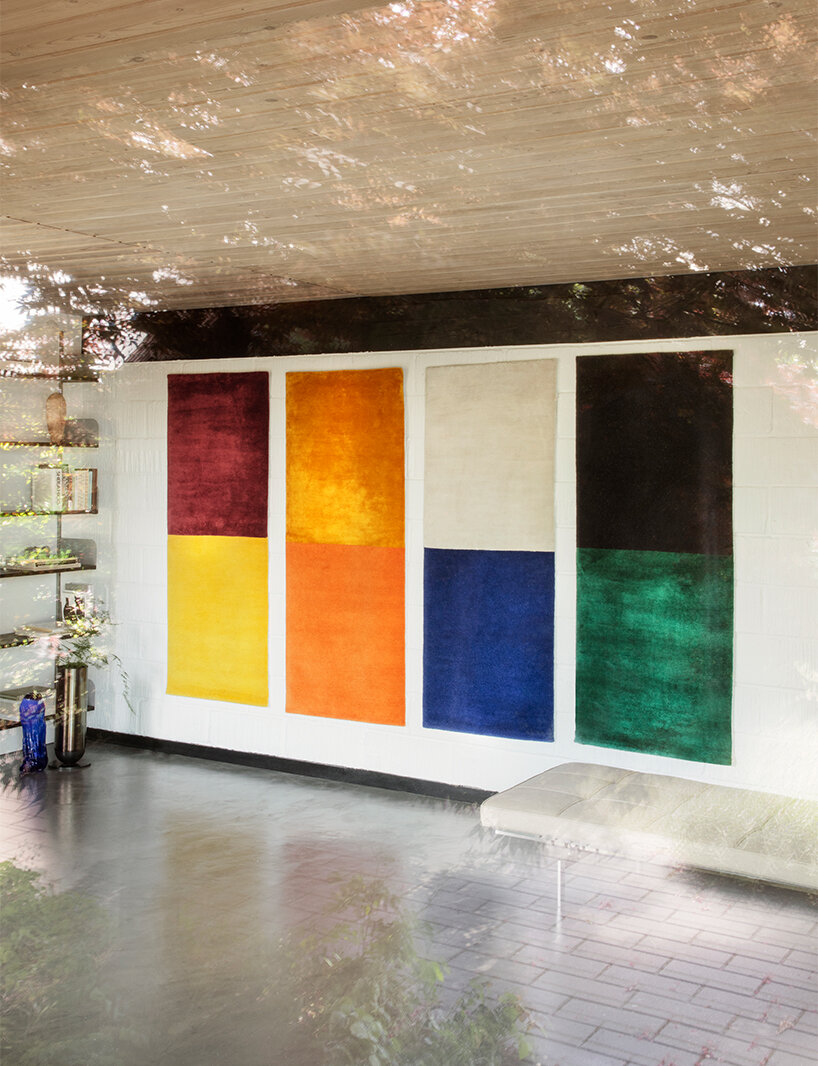 the series is made up of 4 different pairs of color combinations | image © irina boersma
that said, the designer picked eight distinct hues representative of the nepalese culture to shape the color scheme of her tapestry edition. each piece exhibits one of the following color pairs: red/yellow, gold/orange, white/blue, black/green. the final result is a collection of four different color field combinations that highlight the interplay between wool, silk, and light.
'the colors of nepal are exceptional, bold and vibrant, and I have huge respect for the ancient and skilled nepalese craftmanship. I challenged myself to remove all elements that would distract from the rich colors, the light in the surface of the natural materials, and the intricacies of the specific tibetan knot weaving craft', elaborates odgaard.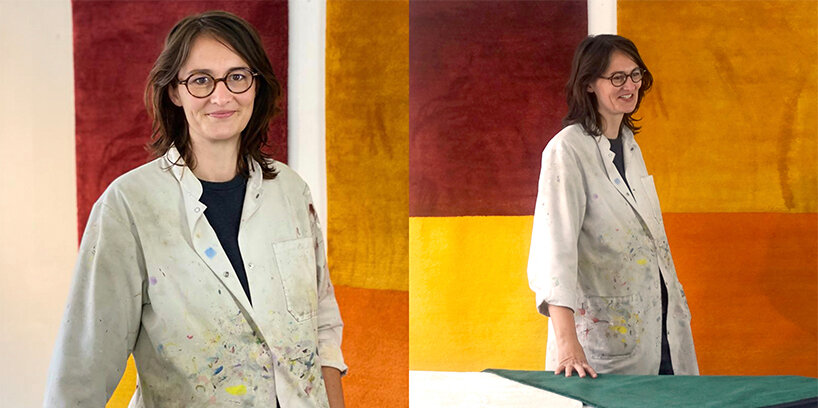 artist and designer margrethe odgaard | image © ca'lyah
when it comes to the choice of hues, odgaard points out to designboom the relation between nepalese values and colors:'in nepal they use a very limited palette of colors, and the ones they use are all very strong, and they represent values coming from their culture and religion. for instance, the color red refers to love, compassion and life force. yellow refers to wealth and beauty, and so on. they have a deep tradition for connecting color to values.'
another key factor was carefully considered while designing each tapestry piece: light. 'since I graduated from [college] in 2005, the importance of light has become more evident to me. I learned that in a way it doesn't make sense to talk about color without talking about light, they are inextricably linked',  notes the artist. light, she explains, helps to maximize the perception of color – giving each hue a kick that exposes its raw characteristics.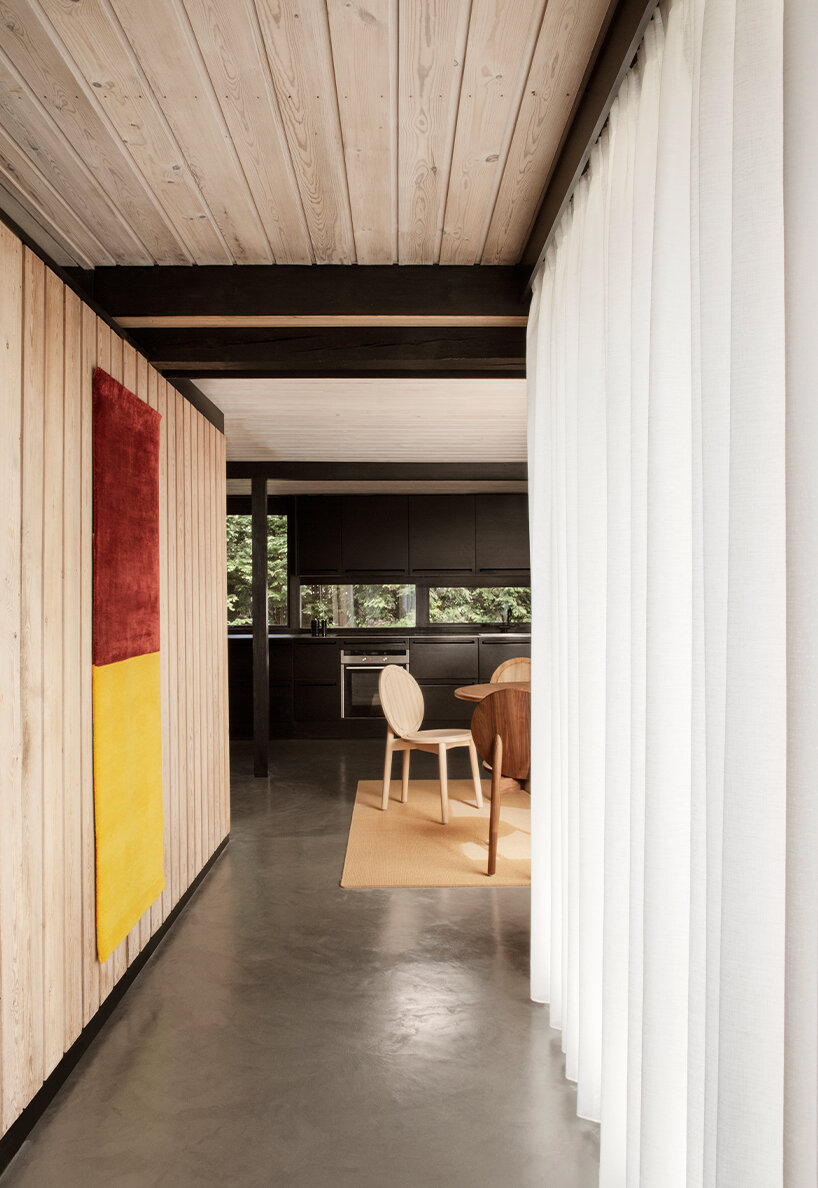 the 'versus' tapestries are charged with a unique ability to reflect and absorb light | image © irina boersma
highlighting himalayan CRAFTSMANSHIP
the tapestries are woven individually and entirely by hand from pure himalayan wool and silk using the tibetan knot technique. the wool is harvested from sheep accustomed to high altitudes and harsh climates. as a result, its long fibres and naturally oily texture gives a visible lustre that increases over time. the distinctive tibetan knot method demands finely tuned rhythmic hand and finger movements that loop the yarns under the warp and around a metal gauge rod to help form the pile height of the tapestry.
each piece requires a multi-step process overseen by a master who performs strict quality controls to ensure the traditional craft is respected. these steps include wool carding, spinning, dyeing and plying the wool, then weaving, washing, stretching and finalizing the tapestry. passed down from generation to generation, this particular tibetan weaving tradition was brought over to nepal during the 1960's migration wave but has roots reaching back to 1700 BC on the tibetan plateau.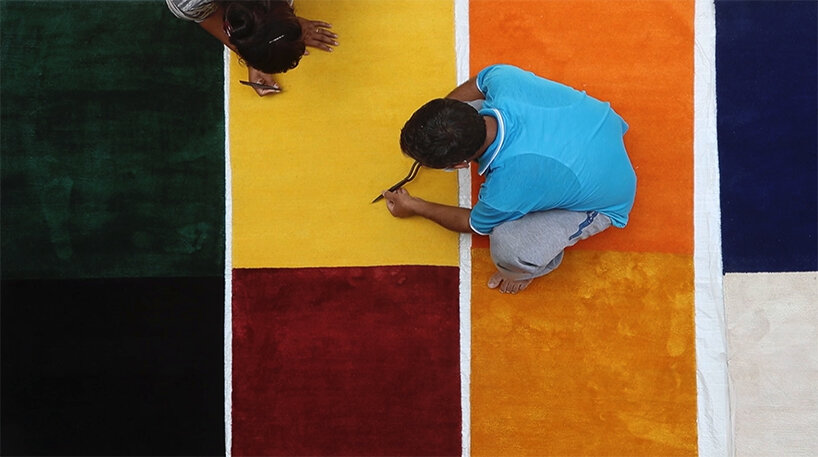 nepalese artisans working on the tapestries in kathmandu | image © niresh restha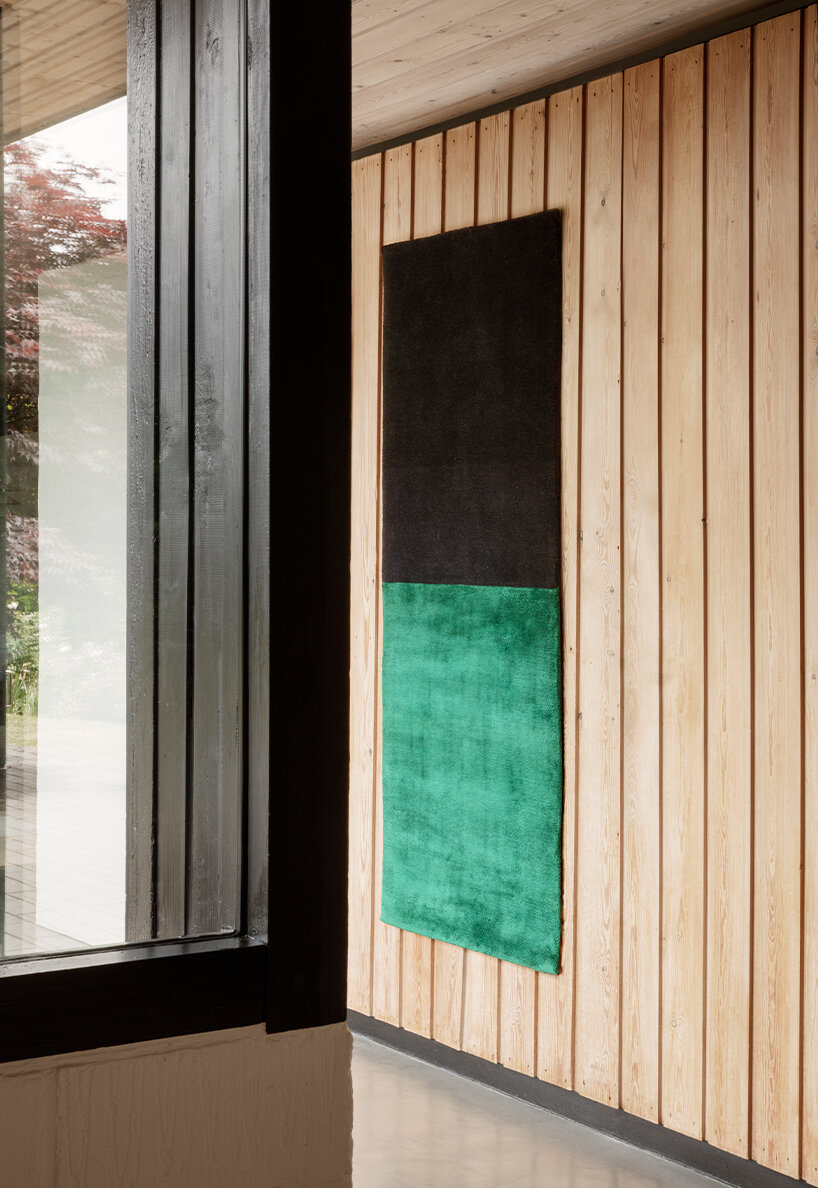 black/green color combination | image © irina boersma