in 2016, zaha hadid architects (ZHA) unveiled plans for a football stadium to be made entirely out of wood. now, three years after the scheme was first announced, the project has received planning permission. to be constructed in gloucestershire, england, the arena will form the centerpiece of the 'eco park' development — a proposed 100 acre sports and green technology business park. in addition to becoming the new home of english football club forest green rovers, the site will also offer new facilities for the local community.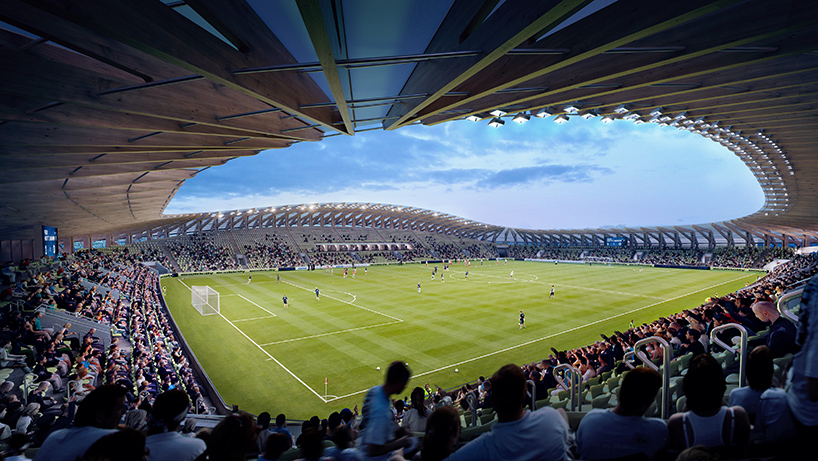 image by negativ (main image by mir)
the site will also provide space for the continued expansion of energy company ecotricity, whose founder, dale vince, is also the chairman of forest green rovers. the proposal also includes the development of a nature reserve and a potential public transport hub. embodying low carbon construction methods and operational processes, ZHA's design will be the world's first all wood football stadium — with almost every element made of sustainably sourced timber. as a building material, laminated timber is highly durable, safe and recyclable.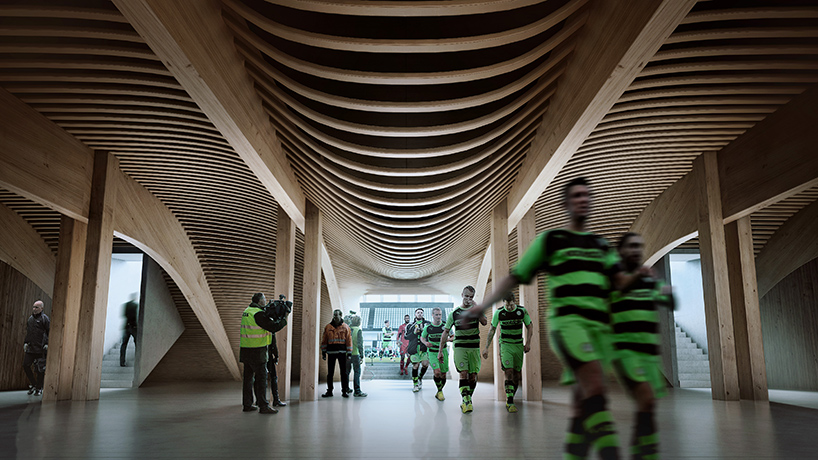 image by negativ
with the team's community and supporters at its core, fans will be as close as five meters (16 ft) from the pitch. a continuous spectator bowl will maximize match-day atmosphere, while the stadium's design incorporates the club's future growth — with the potential for 5,000 seats to be added in future. furthermore, the arena aims to be carbon neutral (or even carbon negative with the provision of on-site renewable energy generation) — demonstrating that sustainable architecture can be dynamic and beautiful. see designboom's previous coverage of the project here.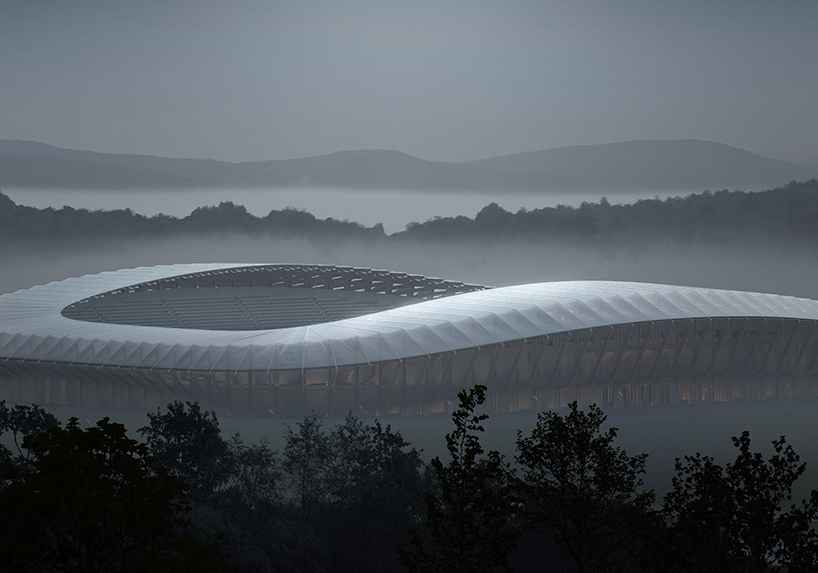 image by mir
project info:
name: ecopark stadium
location: gloucestershire, UK
architect: zaha hadid architects (ZHA)
design: zaha hadid with patrik schumacher
ZHA director: jim heverin
ZHA project director: sara klomps
ZHA design team: karthikeyan arunachalam, sara akbari, muriel boselli, avery chen, saman dadgostar, cynthia du, paulo flores, fabian hecker, jakub klaska, vincent konaté, igor pantic, edgar payan, sven torres, theodor wender, richard wasenegger
philip stevens I designboom
dec 27, 2019