together with the fugger foundation, MVRDV will add its expertise in urban planning and housing at the 500th anniversary of the fuggerei social housing in augsberg, germany. the event, celebrating the world's oldest social housing foundation, will comprise a dynamic, forward-looking, interdisciplinary conversation about the future of social housing. MVRDV's contributions will include visions for future 'fuggereien,' along with the design of an exhibition pavilion to open in augsburg next may.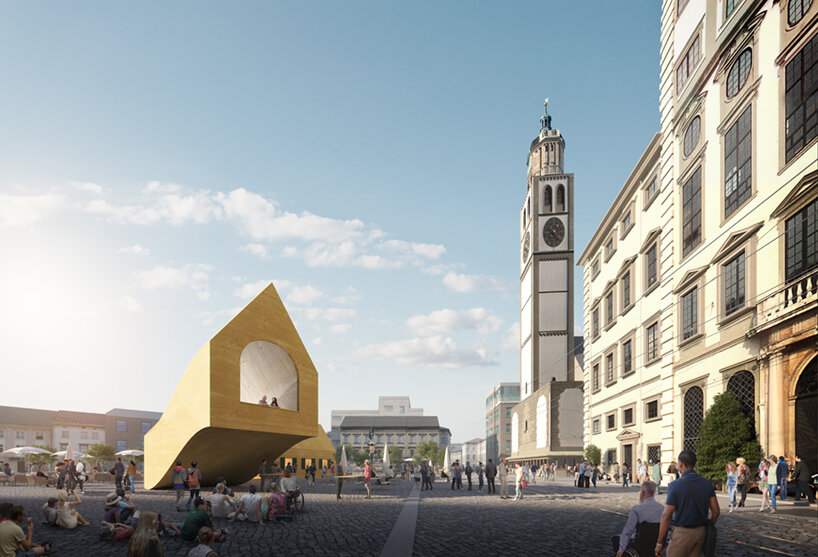 images © MVRDV | @mvrdv
MVRDV designs its pavilion to honor the fuggerei social housing complex, which has stood in augsberg since 1521. the complex was founded by jakob fugger as a place for people to live with dignity, charging a constant, unchanging rent of just one guilder (0.88 modern euros) a year. now, 500 years later, the world sees a complex housing shortage, climate crisis, social inequities, and isolation. the sustainability-oriented and people-centric concept of the fuggerei provides a global role model, and offers a response to the great social and ecological questions of our time.
the anniversary will kick off on august 23rd, 2021, exactly 500 years after its founding, while the pavilion will be realized next may.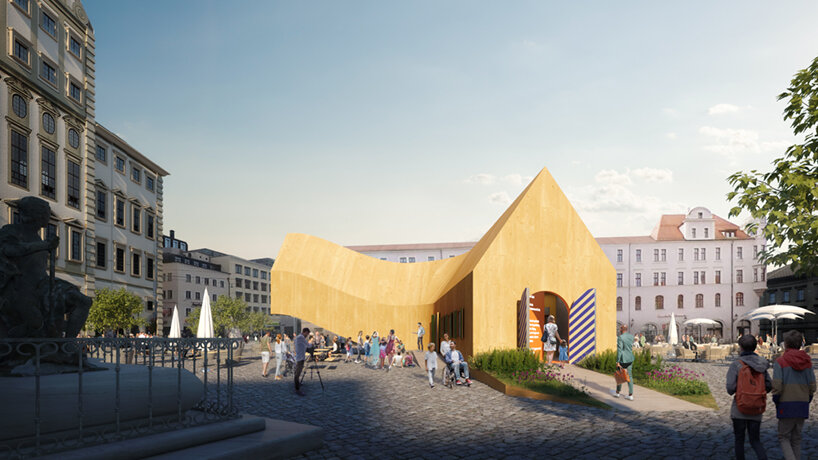 the MVRDV-designed pavilion itself is a long, narrow gabled building inspired by the long terraced houses of the fuggerei itself. however, rather than a single straight shape, one end of the pavilion is curved, pointing towards the fuggerei from its location on the town square, and raised to form an 8.5-meter (28 foot) cantilever that provides a lookout point to view the town hall itself. this raised end incorporates a sloped tribune, allowing the pavilion to host lectures, presentations, and other events during the interdisciplinary debate of the 500-year fuggerei anniversary. the pavilion will be made of cross-laminated timber, with its large cantilever thus demonstrating the structural potential of a relatively new technology based on a sustainable material.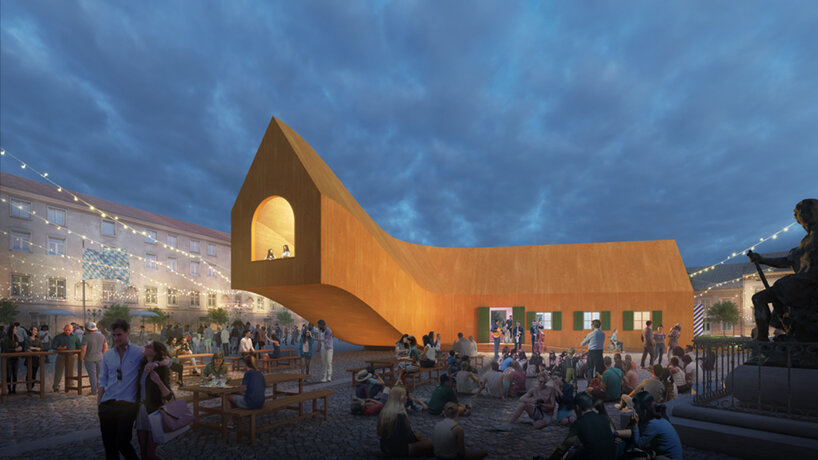 project info:
project title: fuggerei pavilion
location: augsberg, germany
completion: may, 2023