in 2014, dutch studio mecanoo announced that it was undertaking a major overhaul of the mies van der rohe-designed 'martin luther king jr. memorial library' in washington DC. although the library officially opened in september 2020, only a few areas are currently open to the public due to the pandemic. ahead of the project's full unveiling, mecanoo has shared a documentary on the project that was written, filmed, and directed by nienke andersson. viewable at the top of this page, the hour-long movie follows francine houben — mecanoo's creative director and founding partner — as she investigates the past and present in order to design a world-class library.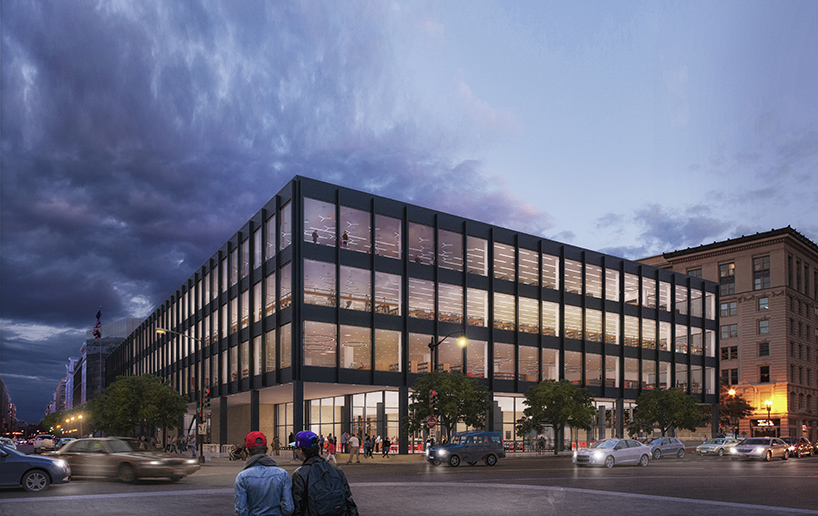 different atmospheres on each floor are visible externally
in developing the scheme, mecanoo worked with local partner OTJ architects to generate a plan that will add 9,300 square meters of additional space for the public — including a rooftop events venue with a landscaped terrace. the glazed perimeter is now for people rather than books, while at ground level, a café has a patio terrace sheltered by the building's continuous arcade.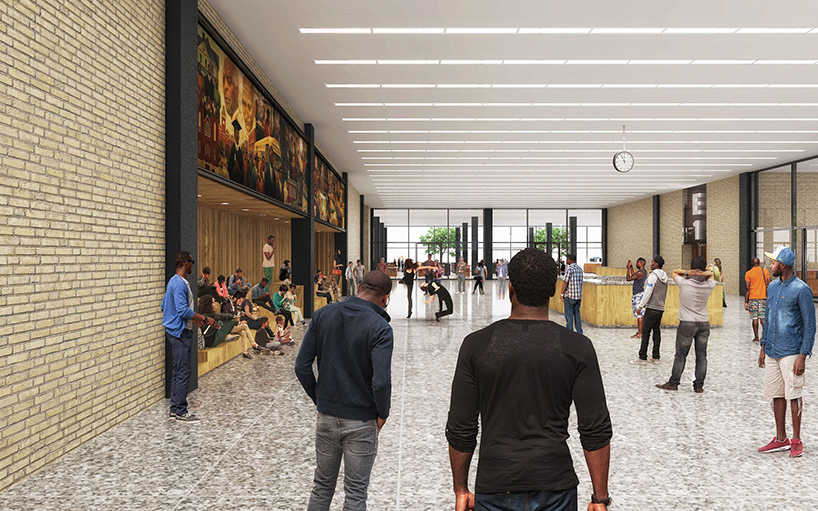 upon entering the building, visitors are welcomed into the great hall
visitors to the renovated building will enjoy a new, transparent entryway and a sculptural stairwell, alongside other facilities that include: a large auditorium and conference center, creative fabrication labs, an interactive children's space, an expanded special collections areas for researchers, and a double-height reading room.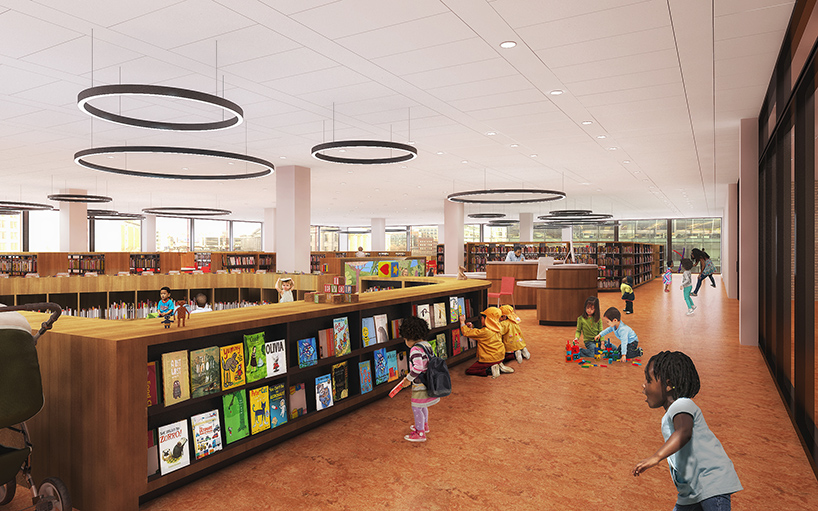 the children's library is designed to appeal to youngsters of all ages
fly thru video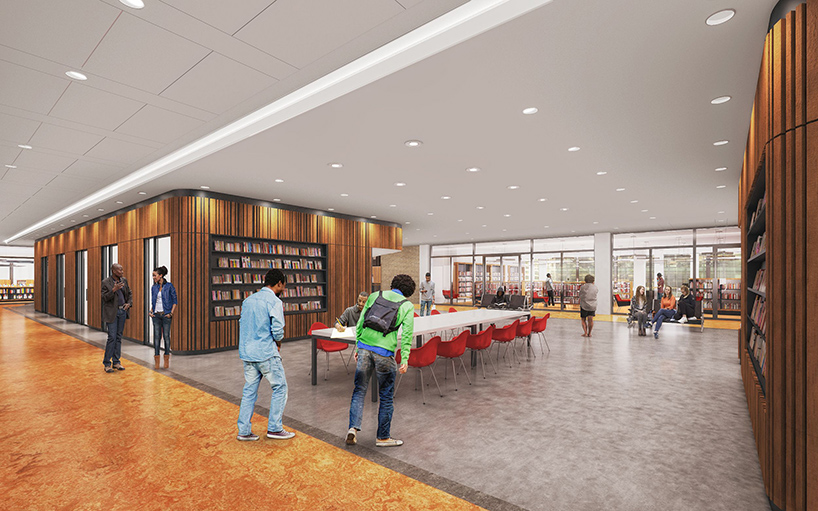 community alliances offer a variety of public services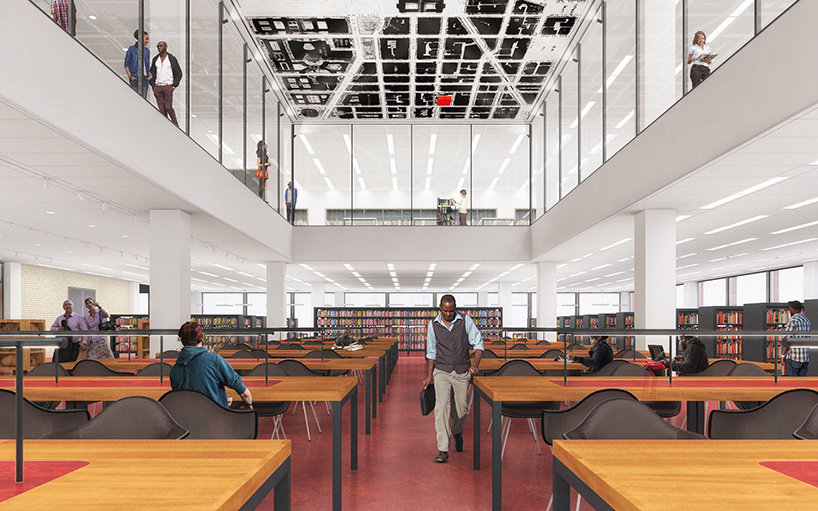 the great reading room is positioned between the third and fourth floors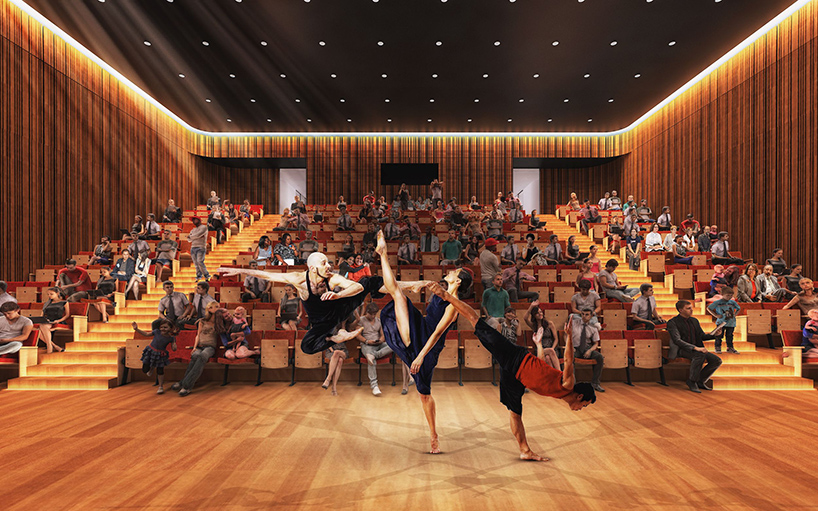 a two-story auditorium will be inserted into the center of the building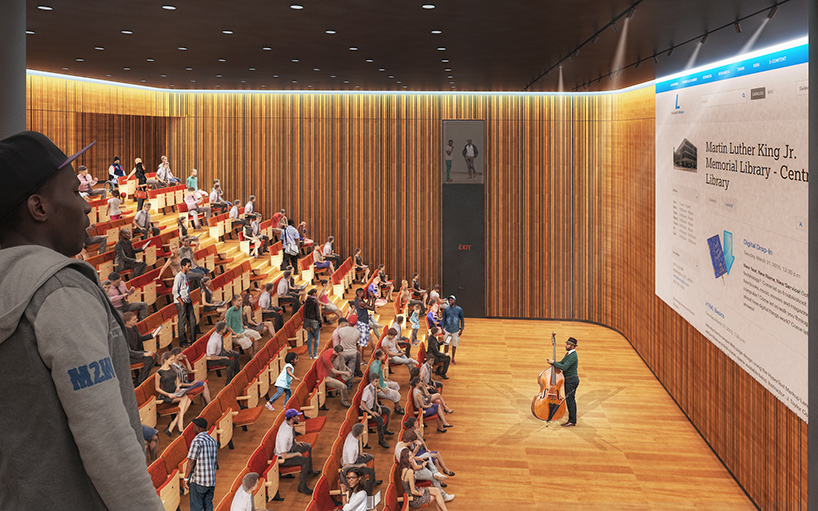 the auditorium spans the fourth and fifth floors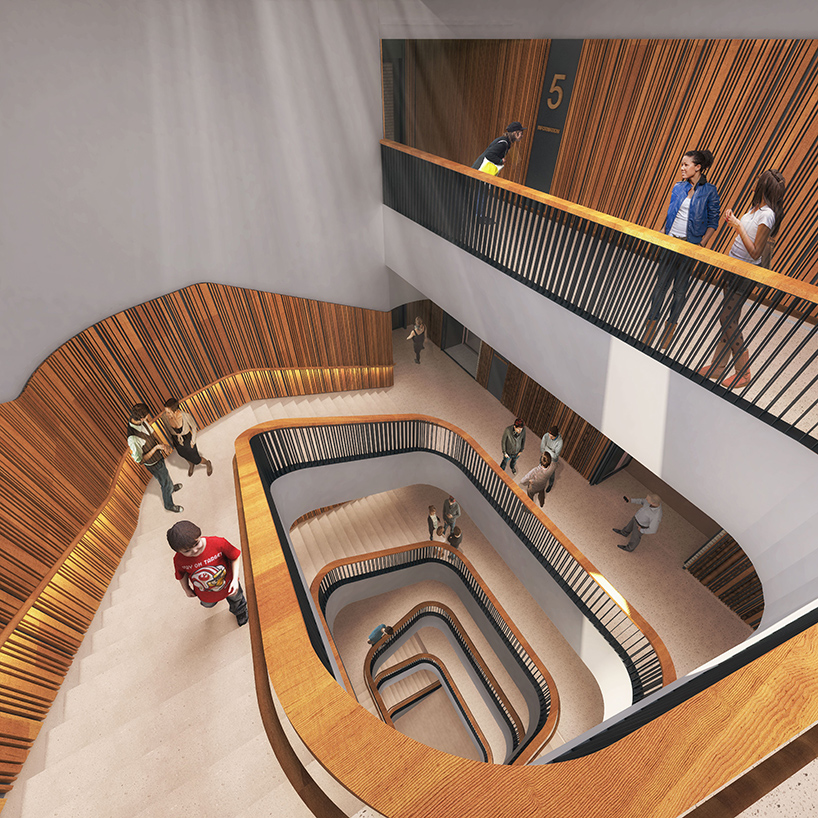 new stairwells are the principal means of vertical circulation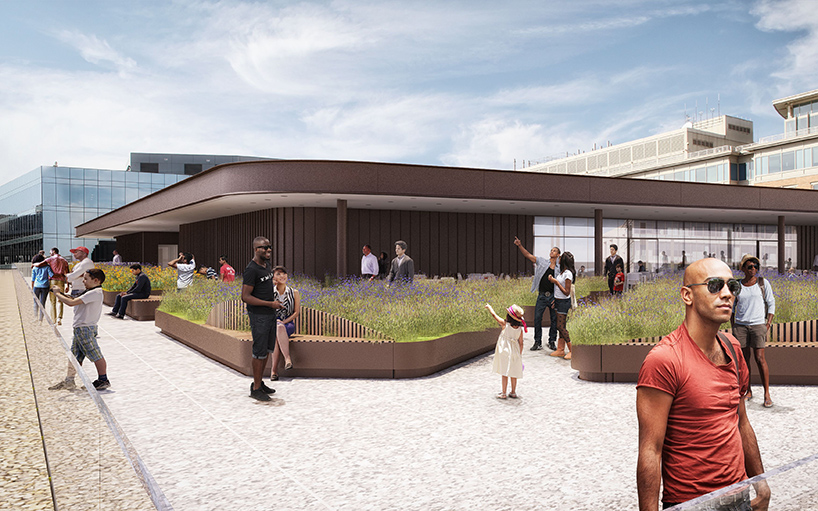 the public terrace on the roof engages with the surrounding city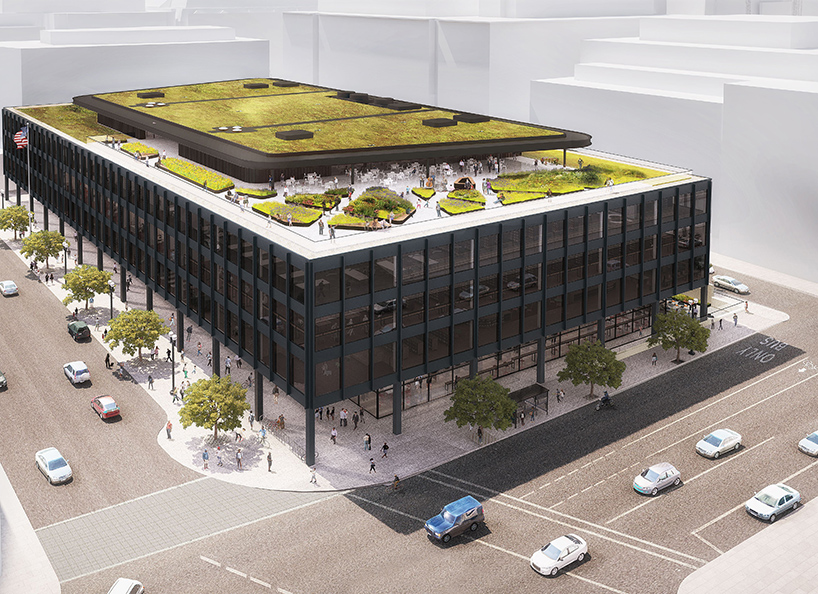 the building originally opened in 1972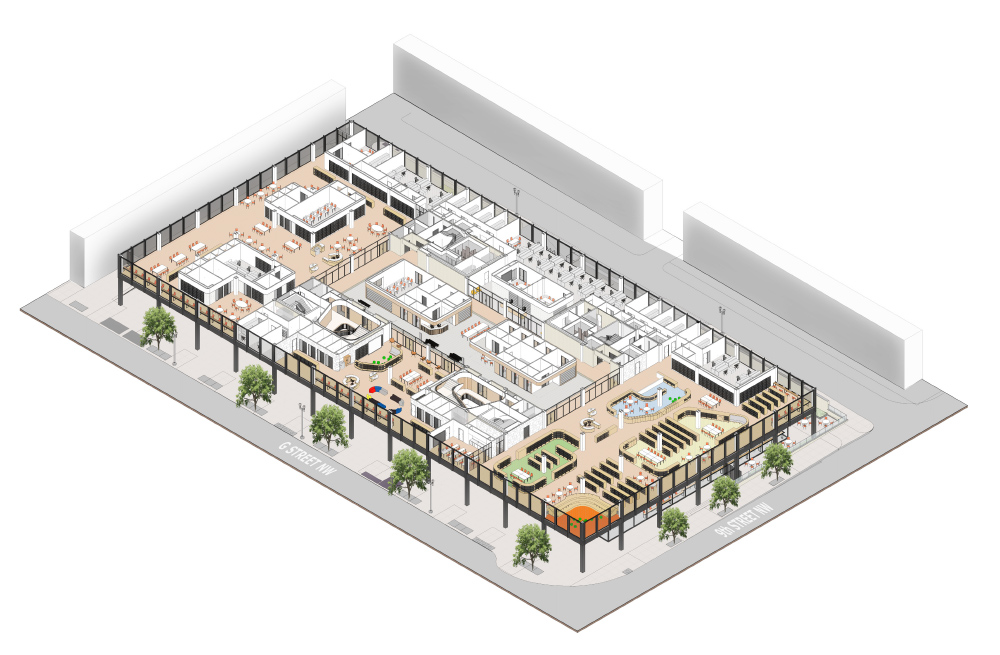 the glazed perimeter of the second floor is for people rather than books
(click for larger version)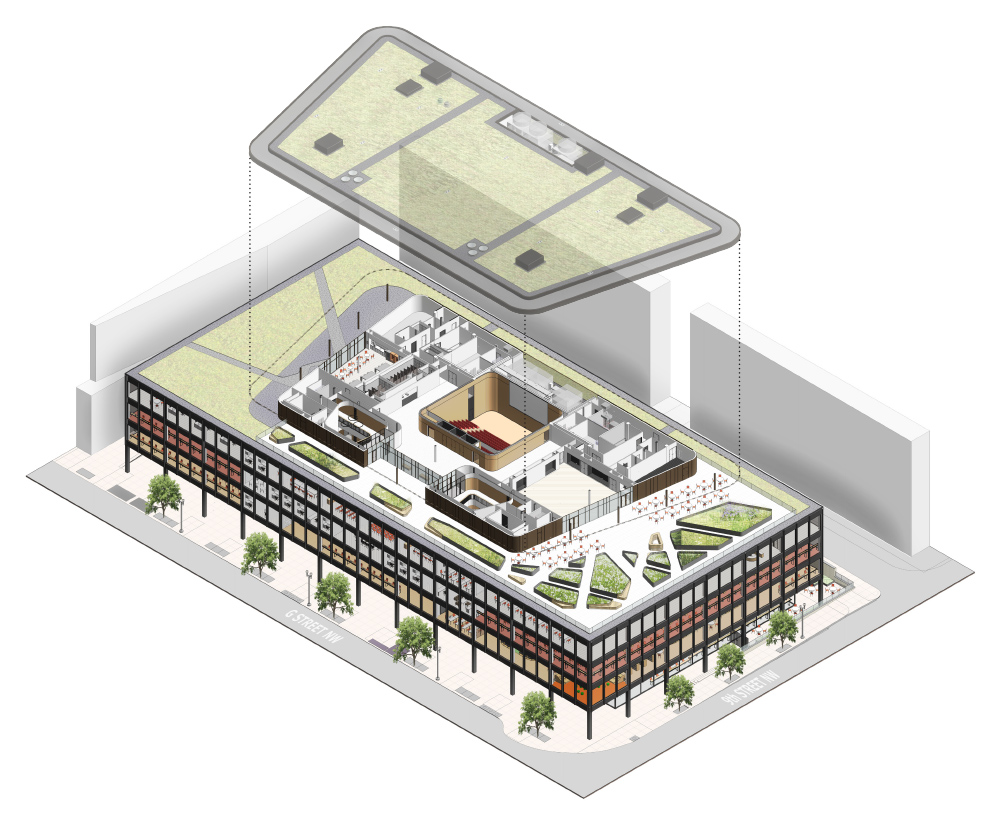 the additional fifth floor with auditorium (280 seats), event space, and public roof terrace
(click for larger version)
project info:
size: 37,000 sqm
status: ongoing
project design: 2014 – 2016
project realisation: 2017 – 2020
address: 901 G street NW, washington D.C., USA
client: district of columbia public library
design team: mecanoo, OTJ architects
program: 37,000 sqm library renovation (design, mies van der rohe) including children's library, teen space, digital commons, DC welcome center, conference center, special collections archives, exhibition and performance spaces, fabrication lab, creative lab, auditorium (300 seats), events space, café, and roof garden
film info:
title: a legacy of mies and king
written, filmed, and directed by: nienke andersson
music and sound engineering: KH music
funded by: the society of arts of the royal netherlands academy of arts and sciences in collaboration with mecanoo
Save
Save
Save
Save
Save
Save
Save
Save
Save
Save
Save
Save
Save
Save
Save
Save
Save
Save
Save
philip stevens I designboom
oct 16, 2020